Alright, this morning we got our first look at Ryan Reynolds in the mo-cap CGI "Green Lantern" costume. Interestingly enough, some sites you'd imagine would be on board (comic-film fans at CHUD) are wincing at the costume, which does look a little silly in the face/mask area, but honestly, compared to "Captain America" and "Thor," the Lantern costume looks like it was designed by Edith Head.

Different strokes for vastly different folks we guess. Now, iFanboy has more scans from this week's Entertainment Weekly. They're... fine. Nothing to get too upset about, nothing to rave over either. We'll have to see what it looks like in the trailers before we can get too concerned. But it's not like the unintentional awfulness that is the recent funny-looking Odin/"Thor" shot. The images feature Reynolds as Hal Jordan, Blake Lively as the love interest, Tim Robbins, Peter Sarsgaard as the villain Hector Hammond (lying down) and Angela Bassett as Amanda Waller (a Government heavy who figures prominently in the D.C. Universe and the comic "The Suicide Squad").

Oh, there's more images (below) and the Sarsgaard/Hammond ones are a bit ridiculous, but to be fair, that is what the character looks like. That's not to say that in the context of the film, both 'Lantern' and "Thor" could look postively awesome. We'll see (our therapist said glass half full, c'mon, try it).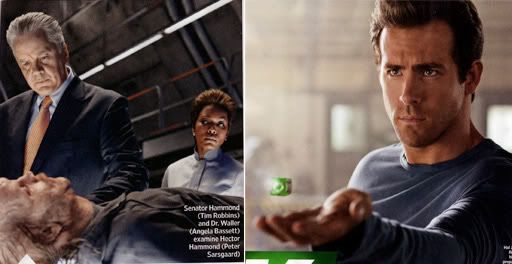 As repeated earlier this AM, directed by Martin Campbell ("Edge of Darkness") ,"Green Lantern" stars Reynolds, Lively, Mark Strong, Sarsgaard (who we've already seen on set), Tim Robbins, Temuera Morrison and Angela Bassett and is due in theaters June 17, 2011.