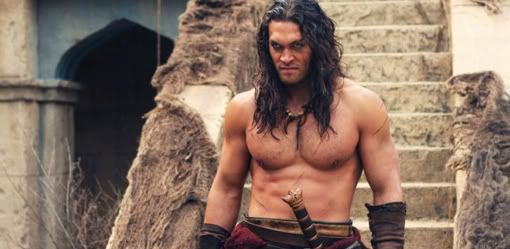 There are boys....there are men....and then there is CONAN.

After the heart-stopping first image from "Conan" arrived, followed by two more that got pulses racing, the female staffers at the Playlist weren't sure if they could handle any more, while the men wanted the endless emasculation to stop. Well, two more Conan pictures have arrived, sending the girls into a tizzy around the office, while the boys had the unpleasant experience of feeling their dicks retracting up into their body.

Yes, Conan is a real man. Just look at those impossibly formed pecs; watch how majestically he rides that horse with his burnished oak locks glowing in the misty late afternoon forest light. Sigh and flutter. At least for the ladies around here. The men wish they could just delete that shit off the Internet forever.

Damn you Jason Momoa; you're getting a free pass from our ladies to eat crackers in bed while we have to ask permission to use the toilet. Thanks a lot.