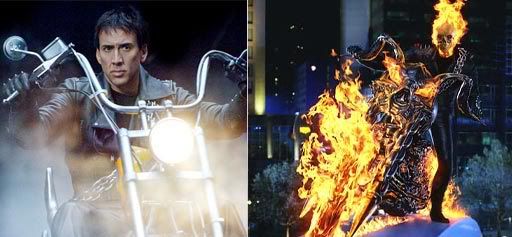 There's been talk of a sequel to "Ghost Rider" pretty much since the film came out in 2007 (or for several years now anyhow), with Nicolas Cage even recognizing how piss poor the movie was (at one point, he wanted to do his own reboot). Well despite reports earlier this year that Cage might not return for the film, last night on the "The Late, Late Show with Craig Ferguson" (the miracle here being that somebody was watching) the actor revealed, "There's gonna be a new one. I just made the deal today." He also goes on to confirm that "Crank" directors Mark Neveldine and Brian Taylor, who were circling the film last month, will be helming the picture.

The timing couldn't be better as Sony was facing a November 14th deadline looming to get a sequel into production or risk the rights reverting back to Marvel. Last we heard, the film still won't be a straight sequel but is apparently based on an old draft David Goyer penned when "Ghost Rider" was set up at New Line Cinema in the early '90s, which had an R-rated horror slant (expect that to change to PG-13). The story takes place eight years after the original, working as a standalone not heavily reliant on continuity. Scott Gimple and Seth Hoffman of "Flashforward" have also reportedly worked on this screenplay, but it's expected Neveldine and Taylor will take a stab at a draft as well.

Anyhow, can't say we're overly excited by this. As you might notice, "Ghost Rider" didn't come near the list in our appreciation of Nicolas Cage and Neveldine/Taylor have yet to prove themselves as more than gimmick directors. However, after acrimoniously leaving "Jonah Hex" and then gleefully watching it flail at the box office, they might have some extra incentive to prove themselves as a capable tentpole team. But it will be seen if they have anything in their toolbox other than lots of garish colors and fast edits.