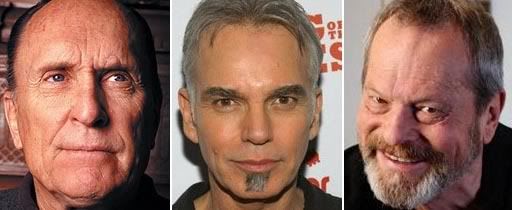 Robert Duvall recently sat down with the NYTimes to talk up his forthcoming low-key dramedy "Get Low," and dropped some details about some upcoming projects that he has on his "front burner."

One that we've heard nothing about until now is apparently a new film written by Billy Bob Thornton. Not much is known about the project except that it's a "post-war drama" and that Duvall hopes he will co-star in the film with James Caan. It's been a while since we've seen a Thornton penned film on screen, and certainly nothing particularly of note since he broke out with his excellent "Sling Blade," so we're curious to hear what he has cooked up.

But one project that has plenty of buzz and anticipation around it is Terry Gilliam's "The Man Who Killed Don Quixote." But unfortunately, despite a rumored September start date, Duvall says about the film (and about Thornton's), "These are some terrific roles," he said. "I want these projects to get off the ground." That doesn't sound like the project is imminently shooting.

Last we heard about 'Don Quixote,' Gilliam had tweaked the script slightly, placing the film completely in a contemporary setting. Originally, the film centered on Toby, an ad man who was in Spain shooting a Quixote-themed commercial when he meets someone who claims to be the real Don Quixote. Then, in a Parnassian bit of whimsy, Toby is whisked away to Quixote-era Spain. However, in the latest version of the script aside from the tweaking of Toby's character from being an ad man to a screenwriter, all the scenes between Toby and Quixote are set in the present day.

Back in May, Ewan McGregor sort of confirmed his involvement but also sounded a bit tentative about the project getting in front of cameras. Gilliam seems to be pretty close on his end to having it ready, having spent time this year scouting locations in Spain, but it does seem as if financing is still not quite where it needs to be.

Man, can't one Gilliam project get in front of cameras without some kind of hurdle (or multiple hurdles) for him to jump through? Though we guess at this point, it's not a Gilliam project until he has to move mountains to get it made. But really, we hope that isn't the case here and things get firmed up in time for everyone involved/attached to come aboard and get this project moving forward.