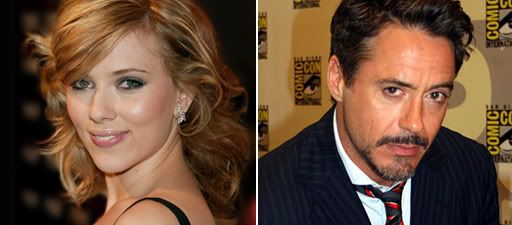 Around The Playlist water cooler we had been wondering, with Alfonso Cuarón's sci-fi epic "Gravity" moving forward, just who would have the star power to take on the leading female role previously attached to Angelina Jolie. Well, the NY Daily News reports (via Bleeding Cool) that Robert Downey Jr.'s "Iron Man 2" co-star Scarlett Johansson has "verbally agreed" to star in the film.

"Gravity" has been gearing up, with a call out by the special effects team for animators for the project. In June, it was reported that Downey Jr. would juggle his filming on the project, starting later this summer, with his commitment to "Sherlock Holmes 2"' shooting this fall. Basically, RDJ will be part of the bookends of the film's production.

"Gravity" centers on a team of astronauts — including the lead medical engineer and a talkative "mile-a-minute" veteran astronaut — who are asked to abandon their fix-it Hubble telescope mission and quickly reboard their ship after a sudden implosion of Russian satellites triggers a debris avalanche in orbit that threatens their immediate safety. It's basically a very high concept sci-fi thriller and a nonstop race for our protagonists to get back to earth.

The film will be hugely-CGI heavy, with the FX company drawing comparisons to "Avatar" in terms of the workload, calling it "60% CG feature animation." Furthermore, the film will be shot in Cuaron's trademark fluid style, with an opening shot intended to last at least 20 minutes. However, Bleeding Cool reports that Warner Bros. are still not comfortable with the minimal dialogue in the film, but hopefully the studio and the director can iron out whatever differences they have. And certainly in the wake of the massive success of "Inception" the studio might be willing to take a chance on another ambitious, creative film. That said, given the amount of FX involved, the fact that most of the running time requires the cast to be weightless, and that it was written to be shot in 3D, this is also a very expensive film in a genre that typically doesn't perform very well.

We loved the script and are excited that it's inching closer to production but aren't quite sold on Johansson playing the lead of Ryan Stone, the young, brainy medical engineer. Frankly, she wasn't all that exciting as Black Widow in "Iron Man 2" and we're concerned if she will be able to have the presence and strength to own the screen for most of the film's roughly 90 minute run time (script we read is 99 pages -- 1 minute per page of script, do the math).

All this said, a "verbal agreement" is not a done deal as we're sure both sides are ironing out the finer points of any contract before making an official announcement. But with the summer quickly drawing to a close, production should be starting soon to keep everyone's schedules locked in, so we do expect more official word on the status and stars of this project shortly.