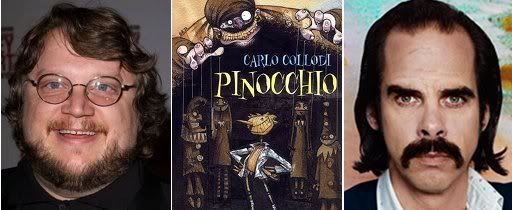 Yesterday there was a fairly lively, profanity-laced panel at Comic-Con for the Guillermo del Toro project "Don't Be Afraid of the Dark," a remake of a charming 1973 made-for-television shocker that's currently available through the wonderful Warner Bros Archives.

The remake seems like a so-so proposition. Based on a script that del Toro and his writing partner

Matthew Robbins

did back in the mid-90s and helmed by comic artist-cum-first-time-director

Troy Nixey

, it could be a hand-me-down version of del Toro's patented "dark fairy tale" shtick. Still, the garrulous del Toro did let some other interesting details slip about future projects to go with Thursday's announcement that he'll be shepherding an

Eddie Murphy

-less "

Haunted Mansion

"for Disney (one sheet after the jump):
-Apparently del Toro is keen on doing a horror anthology series on cable, presumably in the mold of "

Twilight Zone

." He says he plans on seeing how

Frank Darabont

's upcoming ambitious "

Walking Dead

" series does for AMC before moving forward.
-Also, he let slip that the Blu-ray of "
Cronos
" will be due sometime next year. Despite previous reports that the new deluxe DVD and Blu-ray, released by Criterion, would be out in December, disappointed fans will have to wait. There won't be any golden, blood-sucking scarabs underneath your Christmas tree this year. Sorry.
-He also said that "
Frankenstein
," which he is talking about so much , is (still) on the way. Things we already know about his version of "Frankenstein:" performer

Doug Jone

s will be the monster whose look will be based on the awesome Bernie Wrightson illustrations. Apparently, the failure of "

Wolf Man

" hasn't slowed anything down on this adaptation.
-Lastly, and perhaps most intriguingly, Del Toro revealed he's developing a stop-motion animated "

Pinocchio

" with

Gris Grimley

animating and -- awesomely --

Nick Cave

doing the music for the film. No word yet if that means a score or actual songs, but either way, it sounds potentially great (and dark).
While we're normally a little lukewarm on the whole Comic-Con milieu, del Toro is an obvious highlight for any event. A couple of years ago at the New York Comic-Con he charmed our pants off with his presentation for "
Hellboy II: The Golden Army
." And he obviously has big love for his fans, giving them his public email address (someone want to send that to us?) and encouraging them to talk to him if they see him on the Comic Con floor saying, "I cannot read screenplays, but if you have a portfolio, or you have a short you want me to see, fuck it, give it to me. If you see me on the floor, accost me." You rule, del Toro.

And oh yeah, if all this isn't enough, just a reminder that del Toro still has one more big project to announce, a horror film that will be his next project. But he's saving that announcement for after Comic-Con. [The Wrap/STYD]