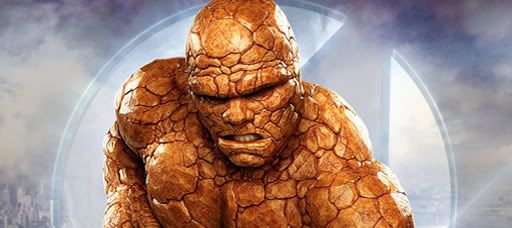 After their first attempt to bring the franchise to the big screen fizzled out, 20th Century Fox is going to give their superhero quartet The Fantastic Four another shot at box office glory in the tentatively titled "Fantastic Four Reborn." Details have been quiet on the project so far, but Screen Rant (via Collider) are reporting a couple of intriguing pieces of info that have come to them from a source at Fox's SFX department.

Firstly, and it seems sort of obvious given how much technology has grown since the first film dropped in 2005, it is being reported that The Thing is going to be a 100% CGI creation. With Louis Leterrier's "Hulk" and Martin Campell's "Green Lantern" going that route for their titular heroes, we can't say we're all that surprised. Michael Chiklis' costume was never that great and kind of visibly fake, so it's no surprise that CGI will be used to add a sense of threat and realism to the character.

But it might be a while yet before we see "Fantastic Four Reborn" in any way, shape or form. Apparently the project is on hold until "X-Men: First Class" is completed. It would seem that Fox is putting all their energies on one high-profile project before getting onto another one, and the approach makes sense. Last fall, Akiva Goldsman was hired to produce the reboot and Michael Green ("Green Lantern") to pen the screenplay but with "Fantastic Four Reborn" presumably about a year away from gearing up, don't be surprised if the script and producing team changes.