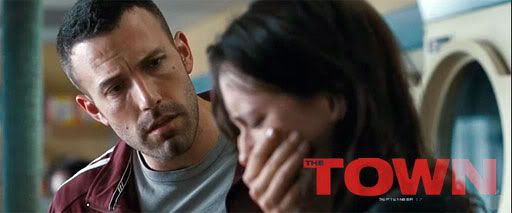 After hearing several reports that the trailer for Warner Bros. "The Town" (directed by Ben Affleck) was screened in front of "Inception" -- including one from our EIA --we pretty much had no doubt we'd be seeing the trailer any minute now. And well, yup, here it is.

The follow-up to Affleck's very admirable, "Gone Baby Gone," "The Town" is based on Chuck Hogan's novel "Prince of Thieves" and is crime thriller as well as a love triangle. It stars Affleck, Rebbeca Hall and "Mad Men" star Jon Hamm as a thief, a bank manager connected to one of his earliest heists and a FBI agent looking to bring him down, respectively. The picture also stars "The Hurt Locker" star Jeremy Renner, Blake Lively, Pete Postlethwaite and Chris Cooper.

The script is credited to Affleck, Sheldon Turner (an early version of "Up In The Air") and Peter Craig. Here's the full synopsis.

Doug

MacRay

(Ben

Affleck

) is an unrepentant criminal, the

de

facto leader of a group of ruthless bank robbers who pride themselves in stealing what they want and getting out clean. With no real attachments, Doug never has to fear losing anyone close to him. But that all changed on the gang's latest job, when they briefly took a hostage--bank manager, Claire

Keesey

(

Rebecca

Hall). Though they let her go unharmed, Claire is nervously aware that the robbers know her name... and where she lives. But she lets her guard down when she meets an unassuming and rather charming man named Doug...not realizing that he is the same man who only days earlier had terrorized her. The instant attraction between them gradually turns into a passionate romance that threatens to take them both down a dangerous, and potentially deadly path.

"The Town" is scheduled to hit theaters September 17 which hopefully means it will screen during the

Toronto International Film Festival

a few days before (which will be the strong make or break indicator if it's a winner or not, but hell, it looks pretty fantastic in our book). An embed is below, or you can just go to Apple for the HD version.