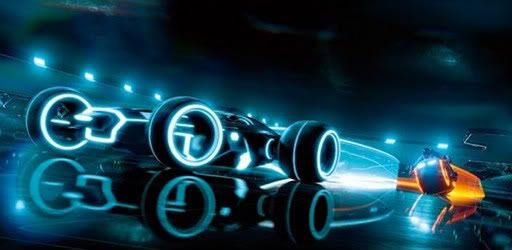 Yesterday brought some new images from Disney's new 3D tentpole hope, "Tron: Legacy," as well as the news, from Empire Magazine's comprehensive new cover story on the movie, that director Joseph Kosinski, a protege of David Fincher, had been using his mentor as a sounding board for the movie. We've finally delved into the article ourselves, and we've found a few more intriguing details on the picture, more specifically, on Daft Punk's score to the movie.

Producer Sean Bailey reveals that the French electro duo actually approached the filmmakers about the project, saying "They heard we were making the sequel and called; 'Tron is hugely influential for us, could we talk to you about your movie?'" From there, Thomas Bangalter and Guy-Manuel de Homem-Christo, who make up the band, have been involved in every aspect of production -- Kosinski says that "We've built them a studio, they come to dailies, script meetings and trailer edits. We've been editing to their temp scores. The music is fully integrated."

Indeed so much so that the music forms part of the 'Tron' world -- there are what's described as three 'levels' to the score; "orchestral, electronic and "special effect" -- sounds dissembled into everlasting loops, the song of Tron." For instance, Kosinski claims that the sound effects for the engines of the lightcycles have been tuned to the same frequency as Bangalter and Homem-Christo's score.

What's more, you may be able to listen to the score in a fairly revolutionary manner: the film will be released in 50 locations equipped with a technology called Iosono. From the creators of the MP3, the Fraunhofer Institute, it uses 'wave field synthesis' to create a soundscape, what Empire describe as 'an audio hologram.' Kosinski explains "You can place a particular sound anywhere in the theatre. It is 3D sound." The company's website suggests that there's only five theaters equipped with the technology at the moment, suggesting it'll be rolling out more in the next six months.

Other than Daft Punk's involvement, we've been pretty ho-hum on "Tron: Legacy"; we've got no great love for the original film, and the clips from the new version hadn't really captured our imagination. But, even aside from the intriguing tidbits about the score, the Empire piece has piqued our interest -- at the very least, Kosinski seems to have the same passion driving him that Peter Jackson brought to "Lord of the Rings," and there's some interesting ideas at play (for instance, 'the real world' sections of "Tron: Legacy" will essentially be in 2D, with a Wizard Of Oz-style switch to 3D when you enter the game world). We're sure more will be revealed from Comic-Con in a few weeks, but it's well worth seeking out the print issue of the magazine for the article in the meantime.