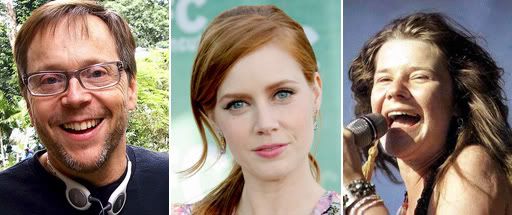 It's been a while since we last heard about a Janis Joplin biopic. At one point, Zooey Deschanel was attached to star in "The Gospel According To Janis," that would take place entirely on the last day of the singer's life, but that project eventually ground to a halt. We pretty much figured any Joplin biopic was a long way off, but it looks like there is another one in the works.

"Twilight" producer Wyck Godfrey, in an interview with FearNet, has revealed that one of the films on his company's production slate is "a Fernando Meirelles Janis Joplin movie with Amy Adams playing Janis Joplin." As far as we know, this is a different project than the "Gospel According to Janis" and we have to say we're a bit surprised. Godfrey says the project should go in front of cameras and be overseen by his partner Marty Bowen during the production of "Breaking Dawn" that is set to shoot this fall.

Last we heard, Fernando Meirelles had signed on to direct "360," a sexual drama scribed by Peter Morgan and based on Arthur Schnitzler's ("Eyes Wide Shut") play "Reigen." As for Adams, she next appears in David O. Russell's "The Fighter" but has been keeping a low profile this year, having given birth a daughter this spring. So theoretically, if this Joplin biopic does go in front of cameras this fall, they could both carve out time for it.

However, don't be surprised if this project changes or doesn't move forward. Godfrey and Bowen have over twenty projects in development on IMDB and biopics are typically some of the hardest films to get off the ground with music clearances and pleasing the subject's estate being two of the most expensive and time-consuming hurdles to clear. Regardless, its an interesting prospect and we're curious to see if this one ends up panning out. A little late to the party, Nikki Finke tries to tell everyone that she's confirmed this.