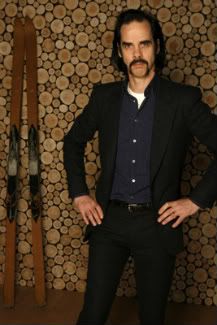 One bizarre, leftfield story about a musician joining a big-budget action movie is odd enough, but with this one, we're beginning to suspect that some filmmakers and executives got very, very drunk at Comic-Con and made some bold decisions. The Wrap broke the news last night that Nick Cave has been hired to rewrite Stephen Norrington's upcoming reboot of "The Crow." Yes, that Nick Cave.

The godlike musician has been carving out a fairly successful literary sideline in recent years, with his second novel, "The Death of Bunny Munro," being published last year, and a number of screenplays for Australian director John Hillcoat: "Ghosts of the Civil Dead," "The Proposition" and the yet-to-be greenlit "The Wettest County." At Russell Crowe's request, he even wrote a batshit-crazy script for a sequel to "Gladiator," which ended up with Maximus serving in The Pentagon. (In case you missed it in the Comic-Con rush, it was also announced over the weekend that Cave would be scoring a stop-motion version of "Pinocchio" for Guillermo Del Toro)

The news that producer Edward Pressman has brought Cave on board the adaptation of James O'Barr's comic would seem to mark something of a paycheck gig for Cave, although there is certainly a kind of kinship with the goth-y, vengeance-fuelled subject matter (for the uninitiated, "The Crow" follows a man resurrected by a mystical crow after he and his girlfriend are murdered). While we're unfamiliar with the original source material, which Norrington's version is said to be closer to, it could theoretically be more interesting than the adaptations to date. The series was inspired by the death of O'Barr's girlfriend, and the lead character was modelled on Ian Curtis, Iggy Pop and Peter Murphy.

This was pretty much the only way that we were ever going to be interested in this one, and it does suggest an admirable level of ambition for the project. Having said that, it is almost certainly just some quick, easy cash for Cave, and it is being directed by Stephen Norrington, marking his first film since he spectacularly shit the bed with "The League of Extraordinary Gentlemen," so we'll reserve judgment until we know a little more. Pressman says that an offer is out to an actor, so we'd expect to hear an announcement relatively soon.