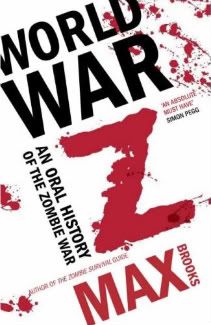 If you're a zombie or horror fan and you haven't read Max Brooks' novel "World War Z;" what have you been doing with yourself? At a time when we were just about ready to demand a general amnesty on the living dead, Brooks took a genuinely fresh look at the myth by writing an oral history of a fictional zombie apocalypse, from initial outbreak to resolution, which was well-researched and terrifyingly plausible. Movie rights were snapped up quickly by Brad Pitt's Plan B Productions, and it's been in development ever since.

Marc Forster ("Finding Neverland," "Quantum of Solace," winner of the 1999 Switzerland Billy Zane Look-A-Like Competition) has been set to direct for some time, and the initial draft, by "Changeling" writer J. Michael Straczynski made the Black List a few years back, and Matthew Michael Carnahan ("The Kingdom," "Lions For Lambs") was brought on for a rewrite a year ago. It sounds like Carnahan's work has gone well, as author Brooks revealed to MTV at Preview Night at Comic-Con that the project was moving forward, and that Pitt himself will take on the lead role.

Assuming Straczynski's script is mostly intact, Pitt would play a UN bureaucrat named Gerry Lane, who in the aftermath of the zombie war is asked to compile a complete report on the incident. It's a very smart structure that keeps the nature of the book intact, and it should manage to separate the finished film from the omnipresent likes of "Resident Evil" and "Survival of the Dead" (even if we wish someone other than the milquetoast Forster was in charge).

Additionally, Paramount have also picked up the rights to two of Brooks' other works, "The Zombie Survival Guide" and graphic novel "The Zombie Survival Guide: Recorded Attacks,"although it's unclear whether they'll form separate projects, or if they'll be incorporated into "World War Z" to some degree. Brooks seems to think that the project is moving forward fairly quickly, and while Pitt has a million projects in development, with a summer 2012 release planned, it seems like this could be next for the star, and will likely go after Forster completes "Machine Gun Preacher" which is currently filming.