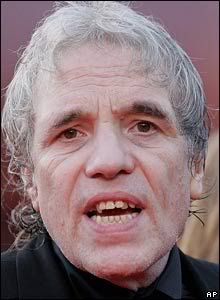 Post apocalyptic films are usually dead in the water, and even the best of them ("Time of the Wolf," "The Road,") are really dry or dull at times. One would think this wouldn't be the case, as the idea is certainly an intriguing one. So who's next in their attempt to bring life to such a bleak concept? Well, that would be none other than rogue filmmaker Abel Ferrara.

In an interview with Guardian, Ferrara talks very briefly about "The Last Day on Earth," a film he's currently prepping. The details are extremely bare, with the plot described as being about "what would happen if everyone knew the world was ending." He doesn't mention names or anything of the sort, but he does think that he will end up getting funding.

Thankfully, it seems like the film will not take place during the apocalypse, which will definitely keep the costs relatively low on this one. However, despite Ferrara's confidence, we can't help but remember all of the films he has on hold or that have been canceled. He walked away from Wesley Snipes vehicle "Game of Death, and one of the many "Jekyll and Hyde" projects, which had Forest Whitaker and 50 Cent, hit a road block when Whitaker backed out. Ferrara speaks more of the latter project, saying of 50 Cent, "He could be an awesome Ed Hyde. He's the real deal. But it's not gonna get made." He mentions that Warner Bros had only put up a fraction of the money, and that any film with Jekyll and Hyde being played by one actor "is an abomination." He also goes on to say that one day he will make it the proper way.

There's no mention of the previously announced Ferrara-led Broadway show "Short Eyes," nor is there any mention of AbelFerrara.com, something we've just discovered thanks to a little digging. GotchaMovies reports that the website would allow fans to watch video interviews and clips from his films, receive news from the director himself and also allow fans to interact with honest Abel. The article is dated May 24th 2010, and 2 1/2 months later there's still a blank page on the website.

In other words, who knows when or if this project will get off the ground. It definitely sounds interesting, it would be great to see Ferrara's take on a society that is aware of their planet's expiration date, but the film-maker doesn't seem to be in a rush to get this one done. We're just hankering to see another Abel film.