Shot between March and May of this year, Alexander Payne's adaptation of Kaui Hart Hemmings' "The Descendants" had looked like a possible late, late season award contender this year. That, however, is evidently not to be with the director now revealing that post-production on the film will run into early 2011 with a release potentially not coming until the fall season.

"I predict I'll be working on it until January or February." Payne told the Omaha World-Herald. "[The release is] up to the studio. Because this film has more adult themes, they might hold it to fall of next year. We haven't held those conversations yet."

The film centers on a wealthy Hawaiian man named Matt King, played by George Clooney, who takes his daughters on a road trip to find the man his wife has been having an affair with after a boating accident leaves her critically injured. "Only Clooney and the girls [played by Shailene Woodley and Amara Miller] have big parts. But they're all important roles," Payne explained of the extended cast. "Beau Bridges plays a cousin of Matt King. Matthew Lillard is a lothario. Judy Greer plays the wife of the lothario. Robert Forster is Matt King's father-in-law. Mary Birdsong is King's wife's best friend. Nick Krause is a good friend to Matt's older daughter."

The Payne-Clooney collaboration is one we look forward to seeing dearly though it apparently could have come much sooner with the director noting he "had met [Clooney] twice, once over lunch when I was casting 'Sideways.' He was interested in one of the roles." "The Descendants" will not only excitingly mark their first union but also Payne's return since that trip to wine country.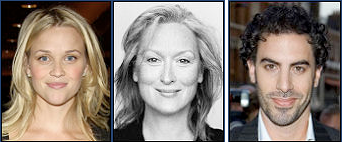 Interestingly, Payne went on reveal plans to start on production of his next feature film. "I expect to film my next movie in 2011. If all goes well, I'll be back in Nebraska shooting again next year." While he never explicitly reveals it, the film in question is likely "Downsizing," the high concept Nebraskan-set "Dr. Strangelove"-esque social comedy that Payne postponed to film the Hemmings adaptation.

The project apparently had Paul Giamatti, Reese Witherspoon, Sasha Baron Cohen on board, as well as Gong Li and Meryl Streep loosely attached to the story about a financially struggling man who decides he can have a much nicer life if he undergoes a process to shrink himself to the size of a midget little person-- a process invented to battle over-consumption and resource depletion.

Our review called the script "a soulful, humanist dramedy [that's] sprawling and ambitious" with "dry, subtle humor, plain characters that grow colorful, slow-paced revelations" and "attention to every-day mundanity [that] grounds 'Downsizing' in realism and, above all, character."

Payne's first attempt to get the project going was halted by budgetary problems from Fox Searchlight concerning the likely-to-be effects-heavy production. It was noted at the time that if it would probably have to be pushed through the 20th Century Fox banner to be made — that was, of course, in a pre-"Avatar" success world. Surely their coffers could do with a shake especially if Payne and Clooney do something with "The Descendants."

Fingers crossed things pan out as planned: two Payne pics within the space of two-ish years? We'll take that deal any day of the week.