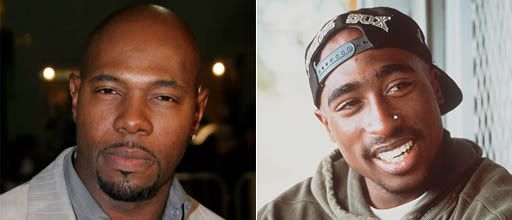 Antoine Fuqua's planned biopic of late, controversial rapper Tupac Shakur is set to undergo a major re-work from the scribing team of Stephen J. Rivele and Chris Wilkinson ("Ali") before hopefully getting in front of cameras in mid-November.

The writing duo have been brought on board to revamp the script for what will now follow Tupac on his final days while flashing back to the final four years of his life. The project was revealed to be greenlit only this past June with the original script by Steven Bagatourian reportedly more of a documentary-style fact-based retelling of the rapper's short 25 years.

"[It's] not in any way biopic-y," Rivele told Vulture of his upcoming take on the story. "I knew nothing about [Shakur, but upon research] it became clear that he was essentially a 19th century Romantic poet who found himself in the 21st century... He was just beginning to shed that anger and look for a purer voice...He was in the process of changing himself, and entering a new phase of his life — essentially a Romantic vision — and had set up a new label, and a new production company to create it."

Concerning the rapper's infamous slaying in a Vegas drive-by, meanwhile, Rivele adds that he aims not to show who killed Shakur, but rather why anyone would want to. "He saw the contradiction between the musical persona of 'Thug Life,' and his essential nature as a gentle, sensitive person. And that was partly responsible for his murder: He was not a gangster, but the people around him were. They saw he was going to leave, that they were going to lose him, and so I think they decided to kill him."

As Fuqua previously revealed, known actors need not apply for the lead role with the director looking to cast an unknown, likely in the same vein as the casting Jamal Woolard for George Tillman Jr.'s biopic of fellow rapper, Notorious B.I.G., "Notorious" -- which also saw Anthony Mackie ("The Hurt Locker") play Tupac.