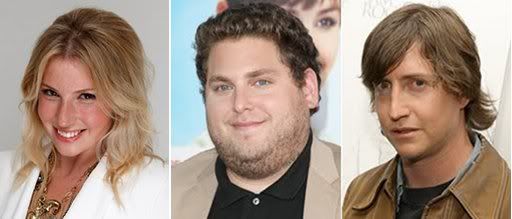 Finally some movement casting news on David Gordon Green's babysitting comedy, "The Sitter" which stars Jonah Hill and last we heard would shoot this fall after Hill completed "Moneyball." We read the script earlier this year, written by Brian Gatewood and Alessandro Tanaka (they're actually writing the "Baywatch" feature too), and it's a enjoyable blast of comic silliness, probably not far off in tone from Green's "Pineapple Express" in 2008.

"The Sitter" centers on a suspended college student (Hill) who is coaxed into babysitting the kids next door by his single, lonely mom, though he is fully unprepared for the wild night ahead of him which includes drug dealers, stolen cars, police chases and all types of escalating hilarity. Most synopsis' have not noted that much of the drama from picture stems from the student's beautiful, but selfish and self-involved girlfriend, who basically manipulates him into going on a coke run for her while he's babysitting (she's using him; we'll be honest, when we read it we totally envisioned Jesse Eisenberg in the lead, but that's neither here not there and we bet Hill and Green are a perfect match).

Deadline reports that the girlfriend has been cast and the role has gone to Ari Graynor who is perhaps best known for her drunken role in "Nick & Norah's Infinite Playlist," and she also had roles in similar teen coming-of-age comedies like "Whip It" and "Youth In Revolt."

This leaves probably five good roles left. The three kids who Hill has to babysit, a chubby Latino kid, a neurotic pre-teen and an oversexed pre-pubescent who desperately wants to be an 11-year-old Britney Spears or Paris Hilton. Then there's the two drug dealer roles which are not huge, but do provide a lot of laughs. When Hill spoke to us about the film earlier this year at SXSW he told us Green and he hoped to have electro-rockers Ratatat score the entire picture and man, that would be a genius maneuver that we sincerely hope happens.

The picture has been called a modern-day "Adventures In Babysitting," and while we suppose there's a vague, basic launching-pad plot, the similarities end there. A 20th Century Fox picture, "The Sitter" is already set for a July 15, 2011 release.