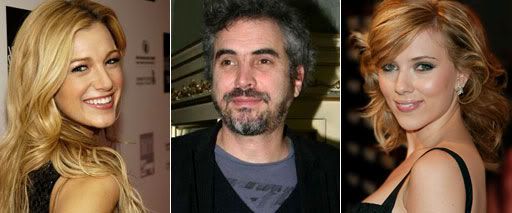 Actress Blake Lively is reportedly gunning to score the lead female role in Alfonso Cuarón's upcoming 3D sci-fi-thriller "Gravity" starring Robert Downey Jr.

While Scarlett Johansson has (reportedly) already "verbally agreed" to star in the pic, the breakers of the original news, NY Daily News, are alleging that Lively is meeting with Cuarón and trying to dethrone Johansson before any deal is inked. That is even though she's shooting Martin Campbell's "Green Lantern" with Johansson's husband Ryan Reynolds and recently even told MTV that she'd love Johansson to teach her "how to fight."

Would Lively actually try to undermine the partner of her franchise co-star? Surely not. Another case of the media trying drum up a non-existent catfight? Probably.

That said, until Johansson signs on the dotted line and is officially on board, we guess the role is still somewhat up for grabs. The report adds that Cuarón is "dead set" on having the actress with the role seemingly hers to lose having gained favoritism after original star Angelina Jolie passed.

"Gravity" follows the story of a team of astronauts including a talkative mile-a-minute veteran and a medical engineer who are asked to abandon their fix-it Hubble telescope mission and quickly reboard their ship after a sudden implosion of Russian satellites triggers a debris avalanche in orbit that threatens their immediate safety. What transpires is basically a very high concept sci-fi thriller and a nonstop race for our protagonists to get back to earth.

The film is also reported to feature up to 60% CG feature animation and shot in Cuaron's trademark fluid style, with an opening shot intended to last at least 20 minutes, although the studio is a bit uneasy about the lack of dialogue in parts of the film. Lensing is slated to begin this fall around with Downey Jr.'s sandwiching "Sherlock Holmes 2" between his work on the film.