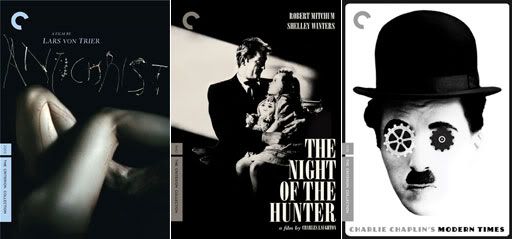 It's mid-month and like clockwork, the Criterion Collection has unveiled its November release schedule -- another slate of classics the tastemaking company can be proud of.

The first release is one we didn't see coming. When we spoke to Criterion's Jon Mulvaney last year, he did tell us about a twelve-picture deal with IFC Films, but at the time, Lars Von Trier's "Antichrist" was not expected to be among the releases. That's obviously changed and the psychological, cabin-in-the-woods horror starring Charlotte Gainsbourg and Willem Dafoe hits DVD release on November 9.

Mulvaney also told us that Charlie Chaplin releases were on the way and the company made a major salvo by scoring "Modern Times" for a November 16 release. The film, an undeniable classic of the silent era is the first Chaplin film to be acquired by the Collection and it likely won't be the last.

Already confirmed, it's still no less exciting to see Charles Laughton's astounding "Night Of The Hunter" starring Robert Mitchum hitting the Criterion Collection on DVD, November 16.

Extremely exciting to this writer is "America Lost and Found: The BBS Story," an amazing box-set that includes the heralded counter-cultural works of the company BBS which stood for pioneering, maverick producers Bob Rafelson, Bert Schneider, and Steve Blauner. The set is incredible and includes, Rafelson's own "Head" (1968), the psychedelic and outre Monkees movie. Dennis Hopper's seminal, "Easy Rider," Rafelson's 1970 classic, "Five Easy Pieces" starring Jack Nicholson, Nicholson's own little-seen directorial debut, "Drive, He Said," Henry Jaglom's introspective and underappreciated 1971 drama, "A Safe Place," Peter Bogdanovich's stone-cold crumbling America classic, "The Last Picture Show" (1971) and Rafelson's "The King Of Marvin Gardens" starring Bruce Dern and Nicholson in roles that seemed purposely switched for the two actors. The set will retail for $99.99, but it's well-worth the price for those seven seminal films. It hits November 23 on Blu-Ray and December 14 on regular DVD. Now you know what to get us for Christmas.

Additionally, if you haven't seen it yet, we now have the final artwork for Stanley Kubrick's "Paths Of Glory" staring Kirk Douglas (1957) and Wes Anderson's India-set travelogue "The Darjeeling Limited" (2007). The latter film is arguably not entirely worthy of the collection, but Adrien Brody does make the film more tolerable. 'Glory' hits October 26 and 'Darjeeling' arrives October 12.