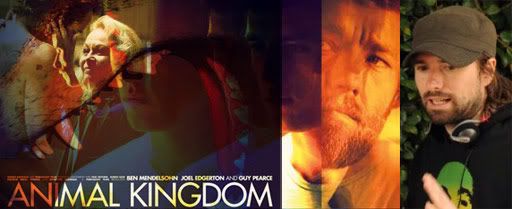 This Friday, moviegoers will finally get to see the vision of tyro filmmaker David Michôd, who brings us his assured, exciting debut film "Animal Kingdom." The story of a young boy forced to assimilate into a crumbling crime family, "Animal Kingdom" has been winning raves worldwide. We reviewed it here, calling it a "nerve-jangling crime classic" and we're not alone in praising the daring, accomplished vision of the young first-timer.

We sat down with Mr. Michod and asked about developing the film's story, his possible influences, as well getting Guy Pearce involved with a first-time director.

The title of the film. It's the perfect in how it encapsulates the themes. When did you get to the title, was it being used early in production or writing? No, it was not a title we started with, and it was one we came really late to in the piece. The film for a long time was just called "J," for the main character that James Frecheville plays. Very early on, I knew that was gonna change. I had edited a magazine for a few years so I knew that one-letter titles get lost in print, so for that reason it was gonna change. But I wanted it to change because the film isn't about just a kid, it's a whole world of characters and I wanted the film to feel grand, in a way. I wanted a title to reflect that scope.

It was called J for a long time, but I knew it was just a working title. "Animal Kingdom" I liked, because there were the obvious thematic connections, relating to the Darwinist ideal of the hierarchy and survival of the fittest. But I also wanted to apply a much larger spectrum, to give the sense of an entire ecosystem that includes people like J's girlfriend's parents. There's a whole world of animals in this jungle, some of which don't even realize how close to a predator they may have drifted. I liked the idea of also using something more gentle and broad to create an aggressive juxtaposition.

The opening credits take place over still photos and security camera footage of the bank-robbing past of the characters. Why did you decide to not actually show the crimes in the film? I always loved the idea of making a film about armed robbers. What I liked about the idea of the film was that, in essence, it's about a young man being thrown into a family in its final stages of decline. The crime that happens in the film is all about defensive crime, a family backed into a corner. I liked the idea of not seeing their principal business. The opening titles evolved out of the end of the shoot and into post-production, when we realized that I liked that idea, but you needed a clear example of what kind of world this kid was walking into. You knew it was dangerous, but it was a little too unspecific without those titles there.


And did you actually film any bank robber footage? How did you stage the photos in this sequence? No, they're real. There's a little bit of photoshopping there, but they're actual random CTV shots of people robbing banks.

The character of Pope [Ben Mendelsohn] is a very particular physical menace in the film. How much of his physicality is written in the script, and how much of it did he naturally bring to the role? Ben has an organic and raw, unpredictable sense of energy when he's acting. Having said that, he's really terrific with text, he sees it as his job to adjust himself to fit dialogue rather than thinking he can change dialogue to fit himself. We talked a lot about what kind of guy he was and that type of psycho-emotional damage and confusion he suffers that manifests in physical ways. I'm not sure how subtle it is, but in the film he's usually doing the scene with a headache, or with a pain in his stomach, and its never meant to be the point of the scene, but he's always suffering some kind of physical discomfort that's a product of his emotional struggles.


Did you seek any inspiration from other films of similar genres? Not specifically. What I wanted to do was make a film that felt very big, rich and substantial. What I had always wanted to make was a crime film that worked in the way crime films do, and that also felt surprising, and full of detail. I wasn't necessarily looking at crime films, though there's so many that I love, but there are all different kinds of films that have that grand weight, and to what extent I pulled it off, I don't know, but that was the intention.

How did Guy Pearce get involved?
Guy came on a year or year and a half before we started shooting. I knew I wanted an actor of his stature and skill to play the detective, a very important but contained character. I knew I wanted someone of his caliber to bring that character to life, and he was my first choice, so we sent the script just to see what would happen and he responded to it almost immediately and expressed his engagement and willingness to do it. Over the next year, it was clear Guy wanted to do whatever he could to make it work, and that was an incredible confidence-booster, because he must read a lot of scripts. That he really wanted to do mine was re-assuring.


Are you thinking of your next project? Yeah, I think about my next move all the time. As far as staying in Australia, I would like to consider myself a citizen of the world. If I wanted to make something bigger, there might not be a way to do it in Australia, or maybe on an international scale, who knows? I just want to work where the story I want to tell happens. I'm not sure, but there are a couple of ideas I am toying around with, and the question is, which one makes sense as a second film. There are a number of ideas I really love, but in some ways I need to be careful which choice I make about a second film. I feel like the groundwork has been laid, I couldn't have asked for the film to be better received, I couldn't ask for any of the praise, but I just need to be careful about what the second film might be.