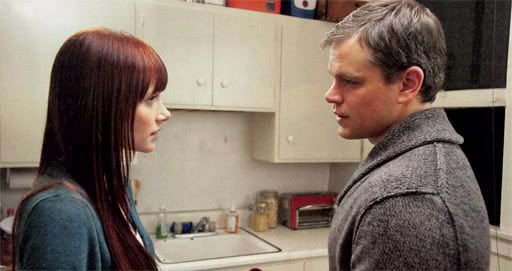 Though Clint Eastwood's "Hereafter" has been called a supernatural-esque thriller by the trades, we've read the script and that's not really the case. It's more of an interconnected tale of grieving/mourning about those that deal with death and tragedies in their lives.

Courtesy of the latest print edition of EW (not yet online, hat tip to one our readers for the scan) we now have our first look at the film. Speaking with magazine, Eastwood himself seems to play down the initial assumptions about the film saying, "I like to think of it as my chick flick. But one that men will like too. Or at least one that won't make them want to stick a Swiss Army knife in their leg." While the film's star, Matt Damon says the picture will have a bit of an international flavor revealing that, "Clint called it his French film. It's got that kind of vibe to it."

Written by Peter Morgan ("The Queen," "Frost/Nixon"), the film follows three plotlines: Damon plays a psychic in San Francisco who can't connect emotionally with his girlfriend (Bryce Dallas Howard) and wants nothing to do with his powers; Cecile DeFrance plays a French TV journalist/talk show host who has a near death experience in the 2004 Tsunami and the third character is a young boy whose twin brother dies in an accident (played by unknowns Frankie and George McClaren). Slowly as the script evolves, their lives interconnect. But don't let the photo fool you, Howard's role is actually pretty minimal in the film. Lyndsey Marshal and Richard Kind round out the cast.

Damon had to almost drop out because of scheduling conflicts with "The Adjustment Bureau" and went so far as to email Eastwood telling him he couldn't do it and suggesting Christian Bale, Josh Brolin and Casey Affleck instead, but Eastwood tailored the shoot for Damon so he could shoot his scenes at the end.

As of yet, the film hasn't been announced for any of the major film festivals this fall, but we won't have to wait too long. "Hereafter" will hit theaters on October 22nd.