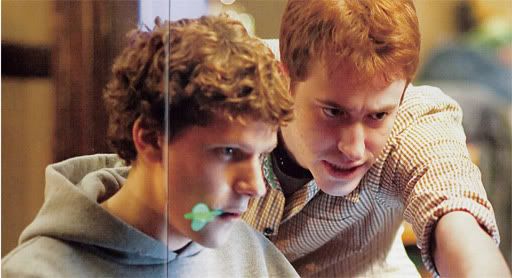 The first review of David Fincher's "The Social Network" has arrived and it's an unequivocal rave. In case you haven't already heard, the film is about the betrayal and greed surrounding the Harvard grads who created Facebook and it stars Jesse Eisenberg ("Zombieland"), the new "Spider-Man" Andrew Garfield ("The Imaginarium of Doctor Parnassus"), Justin Timberlake and the new 'Girl With The Dragon Tattoo' Rooney Mara (talk about a prescient breeding ground of talent).

Interestingly enough, no one has really mentioned where the review came from. It's from Film Comment and the writer is Scott Foundas who is also on the selection committee for the New York Film Festival, that was able to see the film months in advance (and they were so blown away by it they snagged it as their opening night film). Doesn't that raise interesting conflict-of-interest questions? If you're on the committee for this film festival, but also a freelance journalist for a magazine (that happens to be co-owned by people that put on the festival), doesn't proper ethical decorum suggest you don't come out with the very first review on the film? Todd McCarthy is on that committee and he hasn't written a review for IndieWire yet and probably with good reason. It would be weird. It's something that those that didn't mention when flagging this review, should at least stop and think about for a moment. Regardless, here's an excerpt of Foundas' review.

"David

Fincher

's The Social Network is big and brash and brilliant…It is nominally the story of the founding of

Facebook

, yes, and how something that began among friends quickly descended into acrimony and litigation once billions of dollars were at stake. But just as All the President's Men—a seminal film for

Fincher

and a huge influence on his Zodiac—was less interested by the Watergate case than by its zeitgeist-altering ripples, so too is The Social Network devoted to larger patterns of meaning. It is a movie that sees how any social microcosm, if viewed from the proper angle, is no different from another—thus the seemingly hermetic codes of Harvard University become the foundation for a global online community that is itself but a reflection of the all-encompassing high-school cafeteria from which we can never escape. And it owes something to The Great Gatsby, too, in its portrait of a self-made outsider marking his territory in the WASP jungle."

While the New York Film Festival, did sort of revert back to its art-fart ways this year (the kind that seem to infuriate Jeffrey Wells, and not without good reason; apparently they turned down the

Coen

Brothers' "

A Serious Man

," Lone

Scherfig

's "

An Education

" and Jacques

Audiard

's "

A Prophet

" last year), they did have us fooled there for a second by announcing three "commercial films" in their slate this year:

Fincher's

latest,

Clint Eastwood

's "

Hereafter

" and Julie

Taymor

's "

The Tempest

." [Film Linc via Awards Daily]