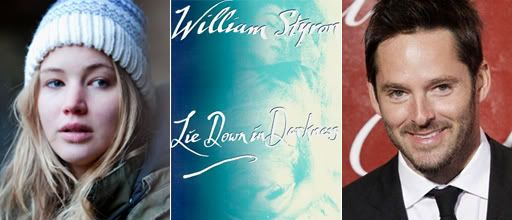 Jennifer Lawrence is evidently fighting for the lead role in an upcoming adaptation of William Styron's Southern family-drama "Lie Down In Darkness" that "Crazy Heart" director Scott Cooper may direct.

"I am obsessed with that part," she told W Magazine. "I have this feeling of protectiveness over characters I want to play. I worry about them—if someone else gets the part, I'm afraid they won't do it right; they'll make the character a victim or they'll make her a villain or they'll just get it wrong somehow."

"I'm trying to write the director of 'Lie Down in Darkness' a letter to convince him that I should be in his movie. I'll chase him if I have to. I'll sit outside his house." She laughed. "I'm beside myself over that script. When I get like that, anything's possible." Her commitment to the role actually mirrors the road she took to win the role of Ree Dolly in Debra Granik's neo-noir thriller/family drama "Winter's Bone" which saw her fly cross-country the night of a rejection to re-audition.

Styron's "Lie Down In Darkness" centers on "the Loftis family — Milton and Helen and their daughters, Peyton and Maudie. The story, told through a series of flashbacks on the day of Peyton's funeral, is a powerful depiction of a family doomed by its failure to forget and its inability to love. Written in masterful prose, Styron's debut novel offers unflinching insight into the ineradicable bonds of place and family." Lawrence is presumably after the lead role of Peyton for the project spearheaded by producer Jeffrey Sharp who set it up in 2008 on the back of adaptations of "Atonement" and "Revolutionary Road."

While Cooper's involvement in the project has yet to be confirmed, THR reported earlier this year that "the widow and children of no less than William Styron have asked him to direct 'Lie Down in Darkness'" and that he has "already written the script. Styron's daughter, Susannah, will be the producer. Now the search is on for the three actors to play the major roles." Safe to say he's still on board to helm as well then?

As two of the brightest new talents in their fields from recent seasons, a Lawrence-Cooper collaboration would certainly be something to look forward to and we've got fingers crossed that it all pans out. That said, if Lawrence wants the part the project would have to wait until next year to shoot as presumably the actress is tied up for the rest of the year with "X-Men: First Class." In addition, Cooper has a number of projects he could jump to including "The Hatfields And The McCoys" with Robert Duvall and possibly Brad Pitt and a Comanche drama written by Larry McMurtry also with Duvall on board.