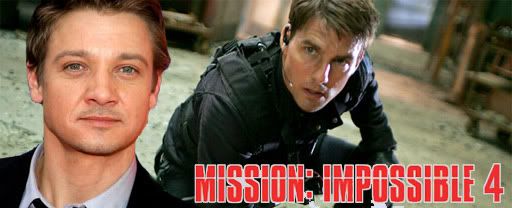 Ethan Hunt has found his sidekick and (possible future replacement) for his next mission impossible, and his name is Jeremy Renner.

Deadline reports that the actor has won the co-starring role opposite Tom Cruise in the forthcoming "Mission: Impossible 4," raising our interest in the film considerably. Recently, news surfaced that Renner's "The Hurt Locker" co-star Anthony Mackie, Kevin Zegers (Zack Snyder's "Dawn of the Dead," "Gossip Girl" and "Transamerica") and Australian actor Christopher Egan ("Letters To Juliet") were all being considered for the role, with screen tests happening imminently. Those tests have now been canceled.

Like we said earlier about Mackie, Renner seriously doesn't need this dreck which ranks high among our unnecessary sequels list, and we really hoped that when he turned down "Battleship" it was a sign he would stick to projects with a bit more....integrity. Anyway, Renner joins the returning Ving Rhames and the possibly returning Simon Pegg in the fourth entry of the franchise, which is slated to hit theaters on December 16, 2011.