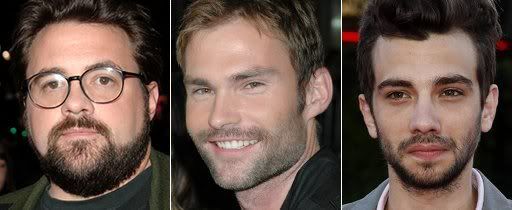 Turns out if you're going to have someone's face smooshed up against reinforced glass while a bunch of shoulder-padded guys pile on behind (and what self-respecting ice hockey film doesn't have four or five of these shots?), for some reason, the most smoosh-worthy face anyone can think of is Seann William Scott's. So much so that despite Kevin Smith wanting so badly to smoosh him in his hockey film "Hit Somebody" that he's currently writing the script for with him in mind, Scott is apparently considering being smooshed in rival hockey film "Goon," instead, which is being developed by potential co-star Jay Baruchel with writing partner Evan Goldberg.

And while we can see Baruchel hitting the glass, nose askew, arms akimbo, drowning in a sea of flailing limbs and sticks too, we somehow feel he'll be more suited as the subject of the puck's-eye view of a stray shot arcing over the ice, his eyes widening then crossing, as it hurtles toward him before striking him on the forehead, whereupon he falls over. We are, of course, basing all this on our weirdly in-depth knowledge of the ultimate hockey film: "D2: The Mighty Ducks" -- you know, the one with the guy from the Statoil ads (Euro readers know what we're talking about).

Anyway, Kevin Smith has addressed the brewing "controversy" via a series of tweets that show pretty clearly how he feels about the development: [edited for clarity/to remove twitter-necessitated abbrvtns]:

"[Scott being so funny in "Cop Out"] made me want to cast him in HIT SOMEBODY. But now he's circling GOON. *sigh*"

" No ["Hit Somebody" script is not near done and Scott has not read it yet] – been a busy month, so still on pg101. Hence he's circling GOON."

"Nah: [not surprised he's interested in "Goon"] they're ready to roll. HIT's not 'til after RED STATE – so mid-2011 the earliest."

"[are "Goon" and "Hit Somebody" very similar?] Not from what I've been told. At all. Besides: the more hockey flicks, the better. #SellTheGame"
So he seems bummed, but gracious about accepting of the reality of Scott's options. "Goon" appears to be headed into production this year and with Smith still writing "Hit Somebody" and getting ready to shoot "Red State," his film, if it gets made at all, is a bit of a way off anyway.

And it looks like we won't be seeing Smith himself in any meaningful way in either "Red State" or "Hit Somebody," or, if we take this tweet seriously, in anything he's likely to do in the future: "Nah. Those days are over. Rather be in front of a microphone than a camera." So perhaps this is the new, more mature Kevin Smith: gracious in defeat, realistic about future projects, and focused on his behind-the-camera strengths? We could get used to that.