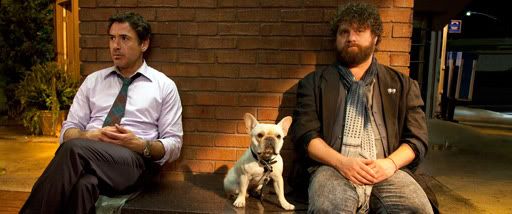 Look, we're no fans of pimping one studio or doing fall previews from one studio (you know who you are), but Warner Bros. have released a few new images we haven't seen yet of some upcoming films, it's Friday and we thought we'd drop 'em in one post.

First we have two new photos of Todd Phillips' "Planes, Trains & Automobiles" comedy, "Due Date" starring Robert Downey Jr. as a high-strung man forced to hitch a ride with an aspiring actor (Zach Galiafinakis) and his cute French bulldog on a road trip in order to make it to his child's birth on time. The picture also co-stars Jamie Foxx, Michelle Monaghan and has appearances by Juliette Lewis, Danny McBride, RZA and Alan Arkin. While it sounds like a regular comedy, in the latest issue of EW (print edition, not online), Downey Jr. says the film strays into some dramatic zones, " It could have been so two dimensional," he explained. "It's not that oh-my-god-we're-doing-a-dramedy-horeshit. But I think it's a step forward for Todd as a filmmaker as far as the emotional depth and complexity." The film is "due" pardon the pun, on November 5.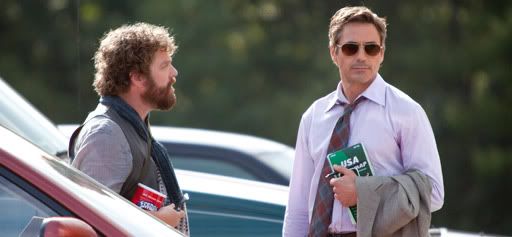 Next we have two new photos from Ben Affleck's crime drama "The Town" which centers on a longtime thief (Affleck) who tries to balance his feelings for a bank manager connected to one of his earlier heists (Rebecca Hall), as well as the FBI agent looking to bring him and his crew down ("Mad Men" star Jon Hamm). The trailers we've seen so far are great and the film's cast is excellent and includes Blake Lively, Jeremy Renner of "The Hurt Locker," Chris Cooper and Pete Postlethwaite. It premieres at the Venice Film Festival and then opens on September 10.

You'd think it would be part of TIFF and more awards season festivals, but perhaps, it doesn't have that sort of arc to it. After all, Affleck told EW (print edition again) that WB wanted an action movie with lots of gunplay and he knew how to deliver that without compromising the emotional texture of the film. "If I could deliver those [action] sequences, I was free to make a drama with themes that I was interested in, like class in America and how children pay for the sins of their parents."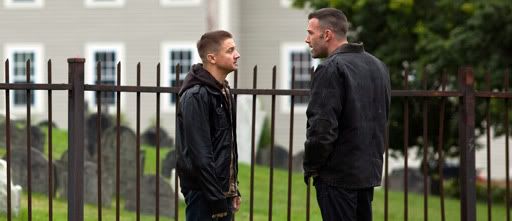 Lastly, there's one new image of "Yogi Bear" which is still probably trying to get over its poster fiasco earlier this year. It's voiced by Justin Timberlake and Dan Aykroyd and hits theaters December 17,