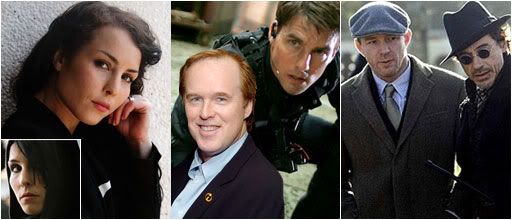 Looks like Noomi Rapace's publicist got a hold of Nikki Finke's number and set her a gift basket of fine jams.

In an article that's part puff piece, part news, and part, we're sure, totally reality, Deadline reports that Swedish actress and original "The Girl With The Dragon Tattoo" actress Noomi Rapace is a hit with Hollywood and everyone wants to take a meeting with her. Eh, doesn't everyone want to take a meeting with everyone?

Well, apparently the 310 area code finally rented "The Girl With The Dragon Tattoo" or finally opened up their collecting-dust screeners en masse (hell, maybe it was the Fincher casting that finally made everyone sit up and finally pay attention.

Apparently Rapace is meeting with Brad Bird for a role in "Mission Impossible 4" and also may take a role in Guy Ritchie's "Sherlock Holmes 2" with Robert Downey Jr. and Jude Law.

She's already met with Brett Ratner, Ridley Scott, James McTeigue, McG for a villain role in "This Means War" and Tommy Wirkola for his "Hansel & Gretel" project that Will Ferrell and Adam McKay are producing. But don't get too worked up about all this. It sounds like cattle call, "Noomi Rapace is in town; meet with as many people as you can in a one-week period."

Sure, we wish we had that juice and obviously don't, but it will be interesting to see what, if anything, comes of any of this. Speaking of that Ferrell/McKay/Wirkola project (he directed "Dead Snow" that 2009 Nazi Zombies picture), it was on that Paramount Picture project sheet that the Wrap leaked today (if Paramount still talks to them after that, they're suckers frankly). Apparently they're going to shoot it and casting discussions are underway now. We don't know much about it, but just based on Rapace's haunting looks, we imagine she might be someone good for the Gothic re-tale-telling.

Apparently Rapace's reps are going to try and position her for a 2010 Oscar for her work in "The Girl With The Dragon Tattoo" ala the same way Marion Cotillard broke that American wall with her performance in "La vie en rose" (or "The Passionate Life of Edith Piaf" as it's sometimes known Stateside). Sure, we bet they will angle her for Oscar, but it doesn't mean it'll happen. And Cotillard's star-making turn in 'Rose'? Sorry, Rapace's turn is fine, but no match.