Minimalist, understated, monastic and punctuated by unnerving stretches of silence, Anton Corbijn's "The American" is an anti-thriller, and an admirable one, in the sense that it bucks almost every convention of the modern day (irony alert) American thriller.

Disquietingly spare and ardently refusing to engage in exposition of any kind, the muted picture will likely reward the patient (and perceptive) audience and alienate those only fluent in modern film grammar. This is not a picture for mass consumption, nor is it one masquerading as anything else.

There will be temptations from critics to demarcate the film as an arthouse picture or a foreign film thriller (or worse emotionally aloof), but they should resist; the methodically patient picture is simply following the form set by its protagonist — an ascetic-like and deliberate assassin who lives by a soulless and isolating code that is beginning to crush his spirit (OK, if you called it the hitman thriller Ingmar Bergman never made we might not argue with you).

Apropos then that the picture about faith — a killer in crisis, losing his religion and perhaps finding something new to believe in — is set in a small Italian countryside town marked by its religious iconography and its local perceptive and kindly priest (Paolo Bonacelli).

We first encounter Jack (a gaunt George Clooney, not especially emaciated, but noticeably lithe) in Sweden in an isolated cabin in the woods going out for a wintry stroll with a paramour. Tracks belie the hidden presence of an outsider and soon the pair are taking cover from a sniper in the woods. Displaying his cool killer instincts, Jack easily disposes of his would-be assassin, the rendezvous driver up the road, and more ruthlessly his girlfriend (Irina Björklund); shooting her in the back after he tells the shocked girl to go call the police (there can be no witnesses of any kind, and at that very moment she's a liability — all of this obviously inferred).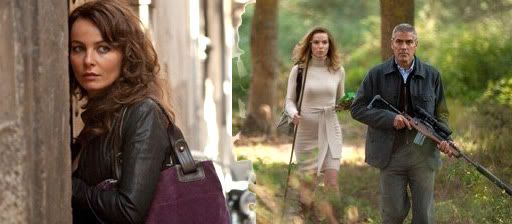 Jack then quickly departs and heads to Rome to meet with his employer Pavel (the grim-looking German actor Johan Leysen). Any American picture would have peppered this quiet, introspective narrative with voiceover, perhaps indulging themes of guilt, sin and salvation, but Corbijn wisely resists those seductive (and lazy) temptations and lets the picture softly simmer with foreboding distress. We can feel the weight of the world on the back of Jack's neck, burning like a cross to bear.


In Rome, Jack attempts to discern how he was discovered in Sweden and in the interim is told by Pavel to lay low in an idyllic Italian town, armed only with a vehicle and a cellphone (his weapons are his own and are a given). He asks, "how was I found" and his proprietor snaps derisively, "Because you made friends," referring to the n0w-deceased girl. "You used to know better." And thus the focus of the character begins to come to light; a killer who is losing his edge.


In a nice little scene of character vis-a-vis action (and no words needed), we watch Jack defy orders, bypass the too small township he's told to hide out in and toss his cellphone out the window. Not much is often said, and the unspoken sentiments feel that much more powerful each time. This is not a director ever deigning to insult anyone's intelligence (though unfortunately, he might be the smartest person in the room if the film is screened in the U.S.).

In the second half of the picture, Jack begins to unravel and his contrition begins to eat away at an already decaying persona. Dread, paranoia and a quiet sadness begin to consume the character desperately seeking some kind of salvation and Clooney does a wonderful job of quietly conveying that low-pitched ache. This is a man condemned to his station in life, while he wants out and hopes to perform one last hit (with the help of the sniper played by Thekla Reuten) so he can escape this life, Jack knows all too well he's doomed and his soul might also be forsaken.

The love story that rears its head in the second half with a local prostitute (the very lovely and very naked Violante Placido) is also subtly played like most of the movie. With the increased anguish of the character, the female becomes not only becomes a romantic figure, but an unrealistic life preserver for a haunted man ensnared in his own growing neurosis and psychological melodrama.

As suggested by its "Parallax View"-like poster, the sparse picture feels indebted to '70s American-made thrillers, yet doesn't feel as self-consciously honor-bound as say "Michael Clayton," which wore those influences proudly on its sleeve within a modern context.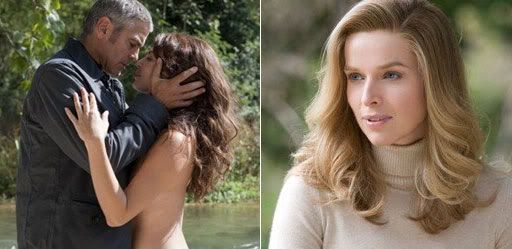 If the picture is undone by anything, it's the dogged commitment to its measured pace (read; slow) and its haunted, brooding mood that will test regular moviegoers (read; bore Joe Pizza to death). That certainly doesn't mean it's dull, it's just the thinking man's hitman film which includes those deep ravaged silences found in Italian Westerns (Sergio Leone's "Once Upon A Time In The West" plays onscreen in one moment for a reason) or in the meditative crime films of Jean Pierre-Melville ("Le Samourai," "Le Cercle Rouge").

In layman's terms, "The American" is "The Limits of Control" minus the deadpan humor, the Jarmusch-ian oddness and the Lynch-ian dream-like nature of the picture. It's simple, straightforward and does not deign to underscore any emotions or moments you've already seen on screen with cheap summary or even for the most part, music. Composer Herbert Grönemeyer's essentials-only score is used only occasionally and even then, rarely raises above a din.

If you're a savvy consumer, by now you've realized Focus Features has....not buried the picture, but not exactly given its all either (and if you're a film critic, various decisions and stipulations make this incredibly obvious), and this is likely because they realize the picture has an incredibly small scope and limited audience reach. While this may be true, don't take the studio's quasi-silence as a mark against the film; this engaging, slow-burn tale of an assassin whose once-sharp talents are quickly fading and fraying is worth savoring. [B+]