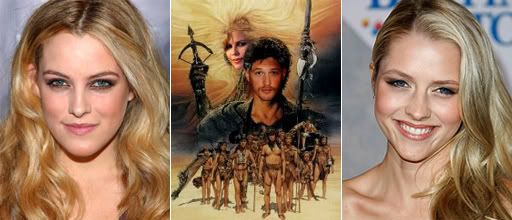 Elvis Presley's granddaughter Riley Keough is in talks to join George Miller's "Mad Max: Fury Road," the fourth installment of his iconic series which launched the career of Mel Gibson.

The model-turned-actress was recently seen in Floria Sigismundi's "The Runaways" and also has Bradley Rust Gray's upcoming lesbian werewolf pic "Jack & Diane" alongside Juno Temple and Kylie Minogue.

In 'Fury Road,' meanwhile, Keough will play one member of a convoy known as the "Five Wives" who requires protection from the bad guys, which no doubt comes courtesy of destined 2010 breakout star Tom Hardy; who takes over the titular role from Gibson for the reboot set a short while after the story detailed in 1985's "Mad Max Beyond Thunderdome." Charlize Theron and Nicholas Hoult also star.

Interestingly, THR adds that she'll join not only Zoe Kravitz and Adelaide Clemens as one of the "wives" but also Teresa Palmer, whose potential involvement has been subject to much conjecture. Is the trade going on new information or simply going by their old story about Palmer joining? The actress has since denied involvement due to a scheduling clash, but that was seemingly before the shoot was pushed back months for 3D research so her schedule could possibly be free for these new dates; the conflict was with D.J Caruso's "I Am Number Four" which is shooting right now.

Palmer is a Miller favorite — he cast her as Talia Al-Ghul in his defunct 'Justice League' film long before she broke out in Hollywood — so it probably wouldn't be out of the question for the two to revive negotiations if schedules now permitted.

Lensing on 'Mad Max 4' will begin early next year, possibly for two films back to back.