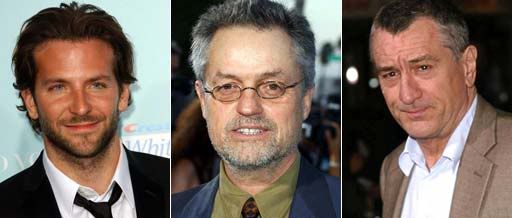 It's essentially impossible to predict the next move for chameleon-like director Jonathan Demme; the last decade has seen him move from botched '60s homage "The Truth About Charlie" to another remake, the semi-successful (but still nowhere near the original) "The Manchurian Candidate," to a documentary about Jimmy Carter, to the excellent "Rachel Getting Married." Previous reports had linked Demme to an animated version of Dave Eggers' striking Hurricane Katrina story "Zeitoun," but it looks like he's going to move back into the mainstream for his next film.

Deadline are reporting that the helmer looks likely to team with Bradley Cooper and Robert De Niro for the long-gestating Paul Haggis script "Honeymoon With Harry," which originally sold to New Line back in 2004. Back then, Haggis was set to direct with Vince Vaughn and Jack Nicholson in the key roles, but it fell apart due to budgetary reasons. However, a read-through was held recently at De Niro's Tribeca Production offices with the two stars, and now Demme is said to be circling the project.

The script (based on a still-unpublished novel by Bart Baker) follows an alcoholic (the role Cooper would take), who reforms his ways after falling in love with a girl, only to relapse after she dies shortly before their wedding. Drowning his sorrows on what would have been their honeymoon, he crosses paths with her father (which De Niro is set for), who is there to scatter his daughter's ashes on her favorite beach.

Apparently, the two stars were keen to work together again after getting on during the filming of Neil Burger's upcoming "Dark Fields," and are now officially attached to the script with Demme in negotiations. It seems like more dramatic material than the stars have been known for of late; Cooper, in particular, is somewhat untested in more serious material, although that could all change if "Dark Fields" comes off (though the January dumping ground release date doesn't breed a lot of confidence there).

The material could either come off as genuinely moving or incredibly mawkish, and with Haggis behind the script, we imagine it could tilt towards the latter. However, Demme showed with "Rachel Getting Married" that he can take this kind of family melodrama and make it feel fresh, so his presence would go some way towards making us feel better about this. Cooper's about to film "The Hangover 2," so we imagine if this moves forward, it'll be at the end of this year or the beginning of next, depending on De Niro's involvement in Lee Daniels' "Selma," which seems stalled at the moment anyhow.