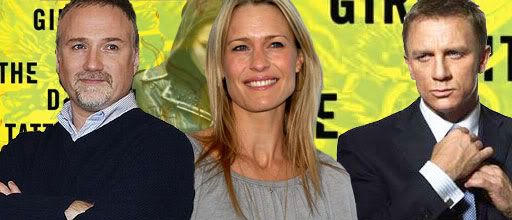 No, don't worry crazy obsessive fans, Lisbeth Salander has not been found just yet (though everything's pointing to a showdown between Emily Browning, once thought out of the picture and Rooney Mara).

Robin Wright is in negotiations to join David Fincher's adaptation of the Swedish hit novel, "The Girl With The Dragon Tattoo," but she won't play the titular bisexual cyperpunk sleuth. Instead she'll be playing the lover of Daniel Craig's lead journalist character Mikael Blomkvist, according to Deadline.

Her character evidently appears in both sequels, "The Girl Who Played With Fire" and "The Girl Who Kicked The Hornet's Nest," and her deal will include options on both pictures. Academy Award-winning screenwriter Steve Zaillian, who apparently blew Sony away with his final draft of 'Tattoo,' is also negotiating to write the sequels. Fincher will say he's concentrating on the first film only, but he has an option on the second film as well if he chooses. Deadline gives no update on who will play Salander, but our money is on Rooney.

Production Weekly recently tweeted that is seemed like the two top choices are Browning and Rooney, but we're not sure the 21-year-old former "Lemony Snicket" star is actually still in the mix. Rooney's got "The Social Network" on her side (she's in the picture and already worked with Fincher, who was obviously impressed enough to consider her) and there are rumors going around that she is already Fincher's number one choice for the role, but he has to fully satisfy Sony. Produced by Scott Rudin, this version of 'Dragon Tattoo' already has a December 21, 2011 release date and with "Bond 23," this is likely going to be Daniel Craig's next big franchise. Wright is currently playing Brad Pitt's ex-wife in Bennett Miller's "Moneyball" which is not so coincidentally another Sony/Zaillian/Rudin project.