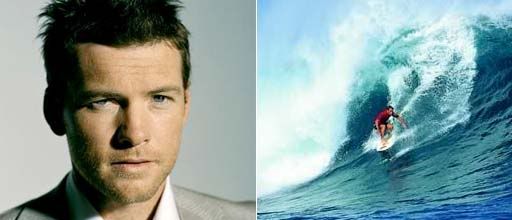 World-beater Sam Worthington is set to return back to his hometown of Perth to lead "Drift," a film that will track the rise of surfing in Australia and globally.

"I'm a [Western Australian] boy at heart and to go back there and put something back into my home town is something I am really looking forward to," he told the West Australian. "There's something pure and true about surfing, and there is something pure and true about this script."

The film will see Worthington — an avid, lifelong surfer — play a photographer and journalist who is instrumental in the evolution of surfing from a pastime into a global industry, as local surf wear manufacturers like Rip Curl and Billabong grow into iconic global brands. Definitely sounds like an interesting role for the sometimes maligned actor.

Tim Duffy and Myles Pollard will be producing and, while the report says Morgan O'Neill and Ben Nott will be helming, we presume cinematographer Nott will be taking DoP duties rather than co-directing.

With an $11 million budget, shooting is expected to commence sometime during the next Australian autumn (the Northern hemisphere's spring) in an attempt to capture on film the bigger waves and moodier skies of the season and potentially shoot during a Margaret River Pro surfing event — possibly 2011's iteration of the Drug Aware Pro. Meanwhile, it was confirmed recently(sorta) that Worthington will play Dracula in Alex Proyas' "Dracula: Year Zero" (though to be honest, that report seemed flimsy and the Australian press might just have been assuming things).