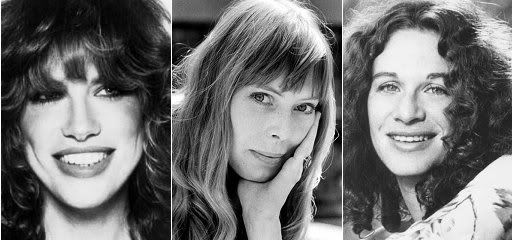 This bit of news comes from some of our sources who have been accurate and reliable in the past.

It appears that Sony has slated "Girls Like Us" as a "priority project" at the studio and are currently seeking a female writer to tackle the story. Based on the book by Sheila Weller, "Girls Like Us" views the careers of legendary artists Carly Simon, Joni Mitchell and Carole King through the lens of the shifting, tumultuous era of the 1960s and how their ascent shaped musical and feminist culture. Here's the book synopsis from Publisher's Weekly:

The epic story of three generational icons, this triple biography from author and Glamour senior editor Weller (Dancing at Ciro's) examines the careers of singer-songwriters Carole King, Joni Mitchell and Carly Simon, whose success reflected, enervated and shaped the feminist movement that grew up with them. After short sketches of their early years, Weller begins in earnest with the 1960s, switching off among the women as their public lives begin. A time of extremes, the 60s found folk music and feminist cultures just beginning to define themselves, while the buttoned-down mainstream was still treating unwed pregnant women, in Mitchell's terms, like you murdered somebody (thus the big, traditional wedding thrown for King, pregnant by songwriting partner Gerry Goffin, in 1959). Pioneering success in the music business led inevitably to similar roles in women's movement, but Weller doesn't overlook the content of their songs and the effect they have on a generation of women facing a lot more choice, but with no one to guide them. Taking readers in-depth through the late 80s, Weller brings the story up to date with a short but satisfying roundup. A must-read for any fan of these artists, this bio will prove an absorbing, eye-opening tour of rock (and American) history for anyone who's appreciated a female musician in the past thirty years.
Amy Pascal

and

Elizabeth Cantillon

are producing
the project and we're curious to see the talent that comes together for this one. It will also be interesting to see how it takes shape; music biopics are generally hard to get off the ground as it involves the complicated matter of clearing music and story rights with various labels and lawyers, so we wonder how easily that will be managed with three high profile artists in the mix.