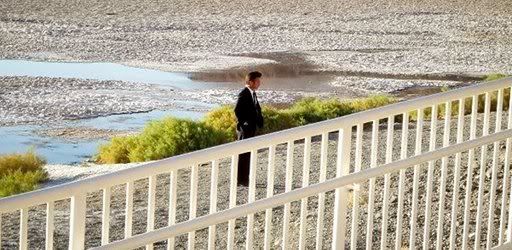 Terrence Malick's long-awaited "The Tree of Life" had been expected by many to premiere at the Cannes Film Festival this year. But Cannes came and went with no sign of the film, so most shifted their expectations a little, suggesting the film would make its debut at Venice, Toronto, Telluride or New York. Some have even predicted a Rome Film Festival premiere, after Malick appeared there in 2007 for a rare Q&A. Guessing when Malick's film would appear has become a parlour game among film fans to rank alongside "What does the end of 'Inception' mean?' and 'How much worse can M. Night Shyamalan get?'

Todd McCarthy of Indiewire, who's on the selection panel for the New York Film Festival this year, reported a couple of days ago that he believed that the film wouldn't even open this year, and would most likely premiere at Cannes in 2011, leaving most of us a little deflated. But now, his Indiewire colleague Anne Thompson has seemingly talked to some sources within the film's distributor Apparition, and the news is a little better.

Following the departure of his Apparition colleague Bob Berney a few months ago, the distributor's owner Bill Pohlad owner hired a consultant, Tom Ortenberg, a veteran of Lionsgate and the Weinstein Company, to aid in the release (and presumably the Oscar campaign) which means that the company's staff are more or less on hold until "The Tree of Life" is released. With that in mind, holding the release until next year is a bit like putting money in a bin and setting it on fire, so Thompson believes that it will hit before December 31st.

However, even with that in mind, it doesn't seem like a dead cert. Thompson's source claims that Malick's still trying to cut the film down, from three hours to two and a half (including letting students at the University of Texas at Austin try their hand at editing; if that's not a film school recommendation, we don't know what is), and Apparition boss Pohlad, who's apparently "indecisive... cautious and slow," is seemingly loathe to rush him.

The best news, however, from a source who's seen the film, is that it seems to be pretty extraordinary -- Thompson passes on that "It's a mystical exploration of the meaning of life, a journey in which a microcosm of a family mirrors the world; the differences between man and woman, husband and wife, are mirrored against nature and grace. It will change the language of movies. It's a real event. People will say 'what the fuck is this?'" Furthermore, the performances of Brad Pitt and Jessica Chastain are both said to be awards worthy.

This all seems to suggest that it's delivered on the promise we saw when we took a look at the script not so long ago. We're pretty convinced that the film will arrive, at least in limited release, before the end of the year. For one thing, it has scheduled release dates in some parts of the world. Mel Gibson's company, Icon, is handling it in Australia and the UK, and it's scheduled for December 26th in Australia, and for January 28th in the UK; these could well move, but there'll be a lot of pressure from international partners for the film to be completed before then.

Furthermore, Malick's meant to be shooting his untitled romantic drama with Ben Affleck and Rachel Weisz (and potentially Javier Bardem, Rachel McAdams and Olga Kurylenko too) in Oklahoma at the beginning of October, so he has to wrap it up by then, surely? It is worth remembering, however, that, even after "The New World" hit theaters, Malick continued to tinker with the film, releasing a new cut a few weeks later. We're sure another update will inevitably follow soon, so, as ever, we'll keep you posted...

Oh and the images top and bottom? They're of Penn on the film's set, sent to us by a kindly reader (thank you!). Click here for a larger version of both. Update: Turns out these are actually a couple of years old, but nonetheless, they will be new to most people. Here are a few more.