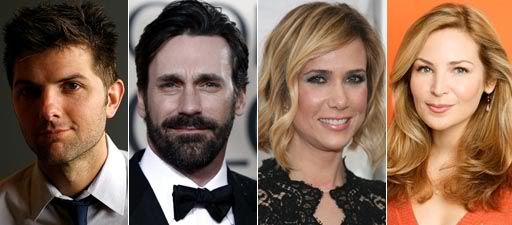 Adam Scott has joined Jon Hamm, Kristen Wiig and Jennifer Westfeldt in the latter's directorial debut, "Friends With Kids."

Earlier this month, the project began taking shape with Hamm joining the film and Wiig and Anne Hathaway as "hopefuls" to come aboard. While Wiig has joined, it looks like Hathaway has moved on with Westfeldt taking a role in front of the camera as well. The film project, which Westfeldt also wrote, was previewed earlier this year at a theatre festival reading with Scott being one of the participants. Other actors who took part in the reading were the stellar likes of Rebecca Creskoff, Rosemarie Dewitt, Noah Emmerich though it isn't known if any of them will follow Scott.

Plot details are hard to come by but earlier this summer Hamm, whose longtime girlfriend is Westfeldt, talked about the tough decision to have kids, the poor examples of marriage they both had from their youth and losing his parents at a young age and we would wager that these experiences have helped shape the material. "I like kids but I also like the option to close the door," Hamm said. "Becoming a parent is a whole other life, and it doesn't stop."

Production on the film is set to begin next month in New York City.