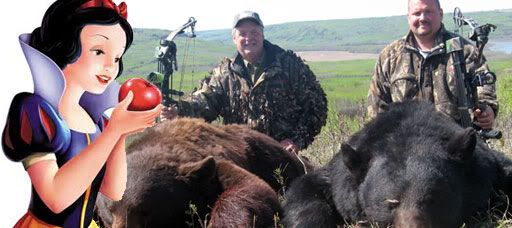 Update: Deadline reports that Universal has paid a whopping $1.5 million against more than $3 million in what is one of the biggest spec script sales of the year.

Are you clamoring for another take on the Snow White story?

Screenwriter Evan Daugherty ("Grayskull, the still unproduced "He-Man" film), director Rupert Sanders (once hired to helm the Leonard DiCaprio-associated crime drama, "The Low Dweller") and producer Joe Roth ("Alice In Wonderland") seem to think so, and they're taking their director/writer/producer package around Hollywood looking for a studio to bite according to THR. Evidently Disney themselves are not part of the visual presentation going around Tinseltown as they have their own project, "Snow and the Seven," in the works.

The project is called, "Snow White & The Huntsman" and the premise sounds pretty excellent, actually. In this version of the fairy tale, the titular Huntsman is ordered to take Snow White into the woods and kill her. Instead, he lets her go and the two are evidently chained together for part of the movie as they make their escape. Evidently there's no love story either and the Hunter acts like more of a mentor, teaching the teen girl to fight and survive (sounds a bit like Joe Wright's "Hanna").

A visceral deconstruction of the Snow White story that pounds on the Disney version? We hope so (and it makes us less worried about Joe Roth's participation).

The project is filled with strong talent too. While not having directed a feature-length film yet, Sanders has been circling several. He's known for directing the live-action "Halo 3: ODST" commercial for the Xbox 360, and as a director he won two Grand Prixes at the Cannes Festival 2008 and was nominated for a DGA in 2006 and 2008. More notably, he was tapped to direct the aforementioned dark ex-con drama "The Low Dweller" in 2009. A top 5 2008 blacklist script that was bought by Leonardo DiCaprio's Appian Way for co-production with Ridley Scott's Scott Free Productions. He's also been a contender for the recent "Hunger Games" project, and was circling "All You Need Is Kill" before Doug Liman confirmed his participation on the film.

While Daugherty's "Grayskull" might not earn him points with our readers, his screenplay "Shrapnel," about two mortal enemies squaring off on a hunting trip to the death, did make the 2008 Blacklist as well. Needless to say it sounds like an enticing project, and we're betting it's only a matter of weeks or days until someone is announced as the project's shepherd.