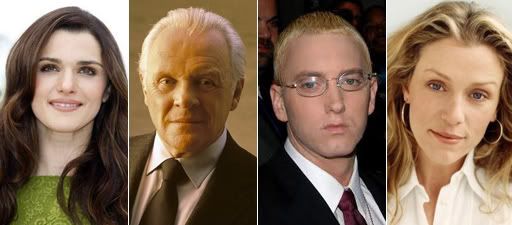 After his semi-autobiographical acting debut in "8 Mile" proved to feature both a pretty solid performance, and a pretty decent movie, many expected hip-hop star Eminem to carve out a profitable side-career in acting. But outside of a pretty good cameo as himself in Judd Apatow's "Funny People," it never materialized, partly due to the rapper's struggle with addiction to alcohol and prescription drugs.

But with his latest record, Recovery proving to be something of a return to form, commercially at least, it looks like Marshall Mathers is set to return to acting, as Production Weekly have reported that the actor is in negotiations to join the cast of Fernando Meirelles' sex drama "360," which Rachel Weisz signed on to a few weeks back. Furthermore, Frances McDormand is also said to be in talks, while Anthony Hopkins appears to have signed on to the project officially.

All in all, it's lining up to a very exciting, eclectic cast for the Peter Morgan-penned reworking of Arthur Schnitzler's "La Ronde." The original is made up of several short scenes between couples, who span class and social divides, who are shown before or after a sexual liaison. After each scene, one character from the pairing is then shown with another partner, who is then shown with another partner, and so on, until the promiscuity comes full circle. With this in mind, we can expect quite a few other casting announcements before filming kicks off later in the year. But frankly, even the faint prospect of a sex scene between Slim Shady and Marge Gunderson kind of blows our minds.

With Meirelles coming off the misfire "Blindness," he's got a little more to prove this time at bat, but he certainly seems to be assembling the right kind of cast here. Eminem, meanwhile, may be seen at some stage in a 3D horror anthology "Shady Talez," although there's been no word on this for almost a year, so don't hold your breath.