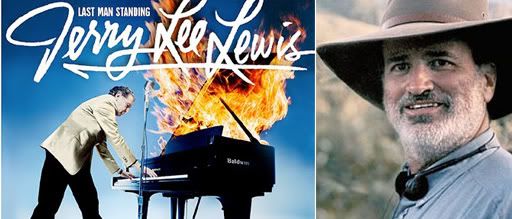 This morning, Risky Business broke the big news that Natalie Portman has been offered the much-contested lead role in Alfonso Cuarón's "Gravity," a film that we're unashamedly excited for. But buried away in the same article is news about a project that makes our anticipation for that film pale in comparison.

The piece reports that, again after the praise for her lead role in "Black Swan," Portman has been targeted by Terrence Malick for "a Jerry Lee Lewis-related project" which the "Badlands" director has been developing with Brad Pitt. This marks something of a burst of activity for the once-reclusive helmer (who famously went nearly twenty years between "Days of Heaven" and "The Thin Red Line"); "Tree of Life" is still yet to emerge, and the director is currently gearing up for an untitled romantic drama with Ben Affleck, Rachel Weisz, Javier Bardem, Rachel McAdams and Olga Kurylenko, set to film any day now.

Initially, we thought the project was an entirely new one for Malick, but a little digging uncovered a 1995 article in Los Angeles Magazine which revealed that, during his absence, Malick worked on "his own version of 'Great Balls of Fire,'" the 1989 film biopic of the rock star that toplined Dennis Quaid and Winona Ryder. His script was described as "much darker" than the finished film by producer Adam Fields, and we imagine that elements of that script will re-emerge in the new film.

The idea of Malick working on a story about the birth of rock n roll is a leftfield one, but enormously exciting, particularly if Pitt and Portman are involved too. Having said that, knowing Malick's sense of urgency when it comes to his projects (at least two and a half years will have passed between "Tree of Life" going before cameras and its release), we imagine we're at least three or four years away from seeing this one, if it happens at all. But quite frankly, we'd marry our 13-year-old cousin if it ensured that the film got made.


One final tidbit from the article concerns the great playwright/screenwriter

Tom Stoppard

, who is currently writing something with

Portman

in mind, which, considering this writer is a full on Stoppard acolyte, is again excellent news. However, with Stoppard currently expressing desire to be killed by a falling bookcase, that may be a little while off too...