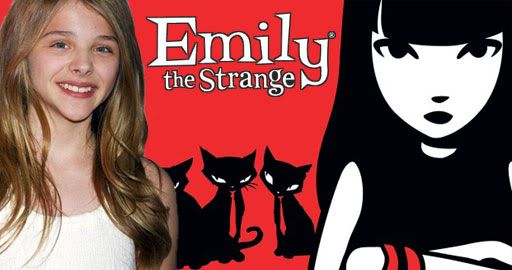 How awesome is it that sweet Chloe Moretz is sidestepping the honeyed kid career route (see Dakota Fanning roles) and becoming more of a modern film icon for teenage disenfranchisement. She's already played the irascible and sarcastic Hitgirl from the "Kick Ass" series, played an angry and lonely vampire in the upcoming, "Let Me In," and now she's going to playing yet another perturbed and smart-alecky teen.

Back in May 2008, an adaptation of the Dark Horse, cult comic character Emily The Strange was announced as in development with Universal Pictures and Deadline has just announced that Moretz (who is also starring in Scorsese's upcoming, "Hugo Cabret") has scored the coveted gig.

The character — a quiet but sharp-witted individualist — was created by Rob Reger and he says, "When I first met Chloe, I knew I found my Emily. She really identifies and understands the character, and has what it takes to bring her to life."

Nerds dying for it to happen should note that Deadline says Moritz is expected to play Hitgirl in the "Kick Ass 2," and yes, that picture will probably, eventually happen, but don't hold your breath for seeing it in say 2011. The principals are busy. Or at least, director Matthew Vaughn has at least one more film ("X-Men: First Class") to contend with before he can even possibly begin thinking about the sequel. While we're here, Vaughn is extremely talented and we hope he doesn't align himself once again with the lardaceous Mark Millar again.