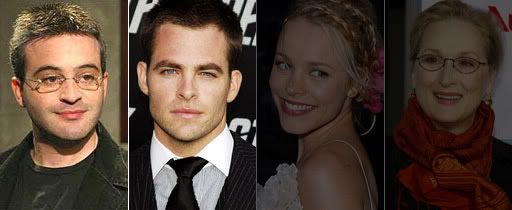 A much more vague report comes from Production Weekly's Twitter today concerning the film, "Welcome To People," the directorial debut of Alex Kurtzman.

Kurtzman is known as one half of the genre-based powerhouse writing/producing duo that includes Roberto Orci. After years of TV work for J.J. Abrams ("Alias,") the twosome started breaking out in a big way after they penned both "Mission: Impossible 3," both "Transformers" films and Abrams' highly successful "Star Trek" reboot. They also co-scripted Jon Favreau's upcoming "Cowboys & Aliens" sci-fi western and their Paper Products production shingle have made them the producers or exec-producers of myriad TV and film projects including, "Fringe," "Hawaii Five-O," the in-development, "Transformers Prime" TV series, and the feature-length thriller "2:22" (they're also exec producers/writers on "Star Trek 2," but oddly enough have nothing to do with Michael Bay's "Transformers 3." Maybe it was their backtalk).

And yet Kurtzman's "Welcome To People," is a veritable 180: a family drama. Production Weekly is "hearing" that a couple of actors have been "mentioned" for parts in the film and they include Chris Pine, Rachel McAdams and Meryl Streep. And while that does sound like a powerhouse trio, and surely there will be more names to come, we wouldn't get too excited just yet. Update: We're told by representative for Kurtzman that while Pine is in early discussions for a role in the picture (the lead), Streep and McAdams are not.

Mentioned usually means that the producers and studio (Dreamworks) have been brainstorming actors and these three have probably floated to the top of their, "wouldn't it be awesome if..." wishlist, but that may not even mean a script is out to their agent, let alone whether they like the part they're being sought for. Then shooting schedules have to come into play, negotiations if they get that far, etc.

Either way, "Welcome To People centers on a twenty-something man (Pine?) who, after the death of his father, must deliver $150,000 in cash to an alcoholic sister (McAdams) he didn't know he had as well as her son, a 12-year-old with major anger management issues (at one point, he tries to blow up his middle school's pool). The man doesn't want to part with the money, but still reaches out to them without telling them who he really is.

While it's nice to see Kurtzman is aiming high for his filmmaking debut, it's unknown whether these busy A-list stars will deign to appear in a picture by a director who's never made a film before. That said the Kurtzman/Orci brand has major pull, so surely the actors will at least consider the part. "Welcome To People" is an old script by Kurtzman that he wrote six years ago and it seems like a wise decision to start out a directing career with what sounds like a modest and relatively contained people drama. Learning effects and action can come later, but this picture sounds like a smart low-key vehicle to start dipping his toe into feature-length filmmaking.