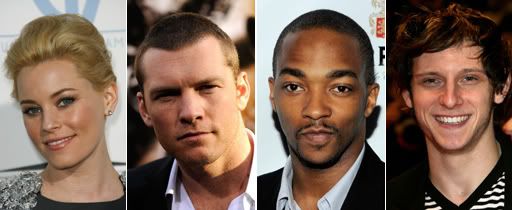 He might have convinced studio executives and tentpole casting directors, but since James Cameron plucked him from the Australian indie scene to topline "Avatar," Sam Worthington hasn't convinced the rest of us that he's an acting force to be reckoned with. He might have headlined the likes of "Terminator: Salvation" and "Clash of the Titans," but he doesn't appear to have mastered the things that'll give his career longevity, like not speaking in his native accent, or having charisma, and reviews of dramas "The Debt" and "Last Night" from Toronto generally picked the actor out as the weak link.

But he's giving the serious actor thing another shot in Summit's thriller "Man On A Ledge," from director Asger Leth ("Ghosts of Cite Soleil"), in which Worthington will play a ex-cop framed for a crime, who is released from prison for his father's funeral, and threatens suicide from a hotel ledge. Across town, meanwhile, his brother is planning a heist, which may be connected to the cop's actions... A strong cast is already on board, with Jamie Bell as the brother, and "The Hurt Locker" star Anthony Mackie as Worthington's ex-partner, and now, another excellent actor has come on board.Deadline report that Elizabeth Banks has joined the cast, as the female lead, a hostage negotiator who tries to talk Worthington down, developing feelings for him in the process. The actress is best known for her comedy roles, but she's going more serious in Paul Haggis' dire-looking "The Next Three Days," and this part marks another step towards the A-list for Banks. Amy Adams was previously reported to be circling the role.

Filming kicks off in November in New York, and we hope that, with a supporting cast as strong as this one, Worthington might raise his game somewhat, and the film'll turn out to be an enjoyable, high-class thriller along the lines of "Inside Man" or "The Negotiator." Aside from "The Next Three Days" the in-demand Banks has "The Details" with Tobey Maguire and the Paul Rudd indie comedy "My Idiot Brother" coming up, and is developing the fantasy comedy "Tink" for Disney.