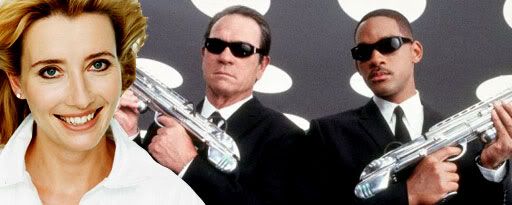 Oh, Emma Thompson, why have thee forsaken us?

Yes, it's true. The British thespian, who doesn't really embarrass herself in the "Nanny McPhee" films, is set to embarrass herself in the third installment for the "Men In Black" films, "Men In Black 3D," which are films for.... kids? Or adults with the sensibilities of kids? It's hard to tell these days since people of all stripes seem to enjoy this delightful sci-fi comedy franchise.

Maybe we're being overtly harsh, but one, we happen to like Thompson a lot and two, what's the point of a third "Men In Black" film other than to buy Jaden Smith a "Back To the Future" time travel Delorean that actually works?

Barry Sonnenfeld made a great Coen Brothers cinematographer, but his cartoonish sensibilities never really gelled as a director (even for his cartoonish films). The original "Men In Black" was marginally fun entertainment and the sequel quickly flew south into unwatchable territory. The mild hope is Etan Cohen, who wrote "Tropic Thunder," will make the threequel -- said to sport a time travel bent -- enjoyable, but David Koepp has already re-written it, and tentpole comedies like this tend to be overwritten to death by committee.

Anyhow, Deadline reports she'll take a lead role in the film that already stars Will Smith, Tommy Lee Jones, plus Josh Brolin (rumored to be the young version of Tommy Lee Jones), Jemaine Clement and probably Rip Torn if he's not rolling around a ditch with his pants around his ankles and a blow-up doll in one hand. Dare we say we'd rather see the completely unnecessary "Ghostbusters 3" before we see this? As you were.