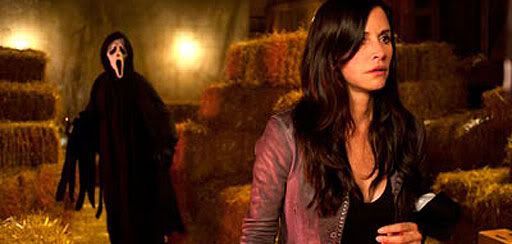 Everything this writer reads about Ghostface and "Scream 4" he keeps hoping it's in reference to the awesome rapper and not the lame serial killer of the tired franchise. At this point we'd rather watch a 'Scream' sequel with Ghostface Killah as the villain rather than seeing what thin premise they've come up with for this latest cash grab.

At any rate, EW has a first look at the film which shows Courtney Cox walking away from Ghostface which leads to all kinds of questions, but mostly: isn't that what she should've done when she first got the script? And speaking of the script, last we heard the shooting schedule was extended to accommodate the 140 page whopper. But whether or not it's any good depends on who you ask. Earlier this summer, Kevin Williamson bailed on the project and Ehren Kruger took over much to the dismay of some cast members (Lauren Graham actually left the film).

The film, starring Emma Roberts, Hayden Panettiere, Rory Culkin, Nico Tortorella, Anthony Anderson, Marielle Jaffe, Marley Shelton, Adam Brody, Alison Brie, Mary McDonnell along with original stars Neve Campbell, Courtney Cox and David Arquette and featuring cameos by Kristen Bell and Anna Paquin, will hit theaters April 15, 2011.