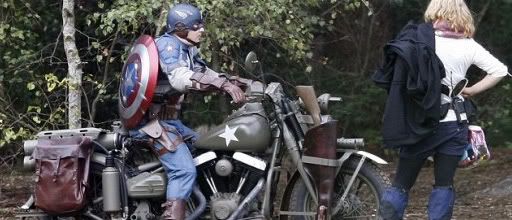 Briefly, cause we don't care so much and honestly, we think the costume looks hella silly. Here's your first look at set photos of Chris Evans riding a motorbike in the "Captain America" suit (though apparently it's a stunt double, like it makes much of a difference). The film, currently being shot in London, is being helmed by Joe Johnston ("The Wolf Man"), so it's no surprise to see that evil H.Y.D.R.A. villains pursuing Evans (below the jump), look like cornball design straight out of "G.I. Joe 3: Direct To DVD." The snaps come from the Daily Mail.

We've ragged on this film far too much, because it's our least favorite of the upcoming Marvel slate (though Kenneth Branagh's once promising "Thor" looks pretty campy too), but honestly, we're really hoping it won't be a total embarrassment, even with post 3D conversion down the line.

The picture stars Chris Evans, Hayley Atwell, Hugo Weaving , Dominic Cooper, Toby Jones, Sebastian Stan, Neal McDonagh, Samuel L. Jackson, Stanley Tucci and Tommy Lee Jones. "Captain America: The First Avenger" hits theaters July 22, 2011.