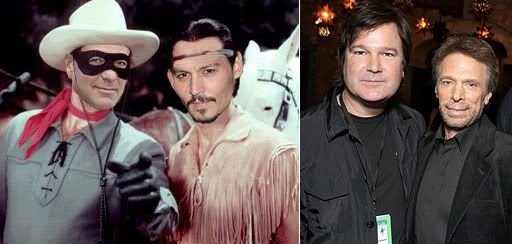 When Johnny Depp finds a director he likes, he sticks with him — see the ongoing relationship with Tim Burton (and or the fact it seems Depp will likely never work with Micheal Mann again, having not really warmed to his methods on their first collaboration).

So it shouldn't be any surprise that Gore Verbinski — who has utilized Depp in four of his last five pictures including the upcoming animated film, "Rango" — is circling the director's chair for Disney's "Lone Ranger," produced by Jerry Bruckheimer and to star Depp as Tonto.

In fact, when we first read Deadline's report — stating that the filmmaker is in talks to helm this picture — we thought, isn't this information old? When in fact, it's not, but Disney/Bruckheimer/ "Lone Ranger" does conjure familiar visions and tone of the "Pirates of The Caribbean" franchise, so what better director to take on this new series (other than say Rob Marshall who danced his away into the helmer's seat for the 4th 'Pirates' film).

Either way, if Verbinski agrees, it seems like the project is still in the early stages and Depp still has a multitude of other projects to choose from or tackle first. He's still set to appear in Burton's "Dark Shadows" and Emir Kusturica's "Wild Roses, Tender Roses," a "Pancho" Villa picture co-starring Salma Hayek (he also has a Keith Richards documentary to direct).

Lest you think a "Lone Ranger" film will be too frivolous and trite, last we heard, Disney hired Justin Haythe, who adapted "Revolutionary Road" for Sam Mendes, wrote the Fox come-and-gone thriller, "The Clearing" and the "Jekyll" project for Keanu Reeves, was tapped to write the screenplay. Perhaps its in a place where Disney likes and now it's time to find a director to bring the vision to the screen. No word on who will play the Lone Ranger, but was you can see by our image above, it was once rumored — very early on — to be George Clooney. Somehow we doubt that one severely.