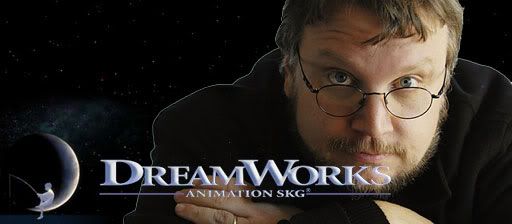 Around this time last year, at the D23 Convention, Disney announced the formation of a new animation shingle overseen by mad genius Guillermo del Toro called Disney Double Dare You. This shingle would focus on scarier stories, with the first project, "Trollhunters," announced for development.

Well, a lot can happen in a year. Del Toro's no longer directing the two-part "Hobbit," Double Dare You is dead (in part due to the "Hobbit" delays) and the filmmaker's jumped ship and taken up new permanent residence at Disney's long-time rival DreamWorks Animation.

According to a report on The Hollywood Reporter, not only will del Toro write and direct "Trollhunters" for DreamWorks Animation, but he'll also serve as a consultant and executive producer for a whole slew of their upcoming animated projects, including "Kung Fu Panda 2," "Puss in Boots," and even this November's "Megamind" (he's been helping to tighten the movie up editorially, according to the report). He even has an office at the DreamWorks Animation building.

Apparently, we weren't the only ones impressed with the boldness of this spring's DreamWorks animated film "How to Train Your Dragon," which is a big reason del Toro made the move. "They took risks with that movie with pathos and imagination and structure. It made me pay attention," del Toro said. He was also nudged to the studio by his longtime cinematographer Guillermo Navarro, who worked with the studio on the studio's trite "Madagascar" films. Or maybe he was attracted by their inability to tell cohesive stories or create memorable characters ("Dragon" aside).

While Double Dare you is dead, del Toro will still be making "Haunted Mansion" under the Disney banner (producing and maybe directing; given his schedule, we doubt it).

The move from Disney to DreamWorks Animation is any interesting one given the almost long-forgotten history; Disney fired Jeffrey Katzenberg and he started the Dreamworks with Steven Spielberg and David Geffen. (Katzenberg now solely oversees the animated studio, which is now a seperate entity. DreamWorks films proper just signed on to a deal with Disney distributing their films).

To add more to his already enormous plate, del Toro recently signed on to produce the action-drama, "Midnight Delivery" for Universal, the new home for his live-action pictures for the foreseeable future. Neil Cross (the U.K. show "MI:5") will pen the script based on an original idea by del Toro which centers on a father who becomes a drug mule to save his son's life (all this was first reported by Pajiba).

Next for del Toro is his first directorial effort since 2008, "At The Mountains of Madness," which will be shot in 3D, is produced by James Cameron and may have roles for Tom Cruise or James McAvoy and Ron Perlman. On the back burners, i.e. may or may not happen one day, del Toro has cooking, "Frankenstein," a new version of "Dr. Jekyll & Mr. Hyde," a remake of "Slaughterhouse-Five," "Drood," (all four of these for Universal), a small movie "Saturn and the End of Days," plus he's developing a stop-motion animated "Pinocchio" with Nick Cave doing the music and lord knows what else ("Van Helsing" is dead for those trying to keep track).