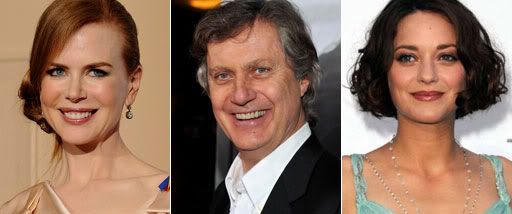 Coveting a Lasse Hallström film in the year 2010 is a risky proposition, as the director's finest days seem to be long behind him; 2000's "Chocolat" or 1999's "The Cider House Rules" are arguably his last good films, but it's more like "What's Eating Gilbert Grape" in 1993. His nostalgically sentimental tone curdled into full blown mawkishness during the beginning of the last decade and it was pretty much a very uneven slide since then. Ok, "The Hoax" and "Casanova" have their moments, but neither are great pictures by any stretch. Somewhere along the way the man lost whatever edge he had.

Perhaps because we're gluttons for punishment — coupled with our love of a good cast — we're still interested in his gestating transgendered drama "The Danish Girl," with Nicole Kidman which fell apart earlier this year. Perhaps that anticipation is a holdover from the initial state. Originally, Tomas Alfredson, the director of the Swedish vampire drama, "Let The Right One In," was to be helming the picture and Kidman and Charlize Theron starring. Slowly, but surely, and for mostly unknown reasons, talent kept dropping out of the picture. First it was Theron who was then replaced with Gwyneth Paltrow and then it was Alfredson who is going on to make "Tinker, Tailor, Soldier, Spy" (he left after evidently being refused more time to develop the script written by Lucinda Coxon, which is never a good sign). Hallstrom took over earlier this year and then, delaying things even further, Paltrow dropped out in April.

Is there new blood entering the sure-to-be risky project? Bleeding Cool has noticed a report from Access Hollywood that casually mentions Marion Cotillard as being the (new) co-star of the project and of course it's buried in the middle of the piece as if it isn't big news. Frankly, the French star would be perfect for the role, and she seems like an actress of caliber to perform alongside the always underrated Kidman, but we're cautious since this hasn't been officially reported by anyone yet. Fingers crossed.

In June of this year, THR reported that the film had received €1.2 million ($1.5 million) in subsidy financing from Germany's NRW Film Board on the condition that its planned 19-day shoot would take place in Germany. That's a good sign, however some reports claim the film won't start shooting til 2012 (which makes sense considering what the director has on his plate right now, see below).

The film is based on a novel by David Ebershoff and focuses on the 1930s-set story of the first ever sex-change patient, Einar Wegener, a male Danish artist whose love affair with his wife — fellow Danish artist Gerda Wegener — and art set him on the path to an eventual male-to-female operation. Kidman will play the transgendered protagonist and Cotillard would play the wife — if this report turns out to be true (and we hope it is). According to reports, we should see the pair as male and female initially.

Shooting was scheduled to begin this May in Budapest, Prague and Denmark, but funding never came through and Hallström instead moved on to "Salmon Fishing In Yemen" with Kristin Scott Thomas, Ewan McGregor and Emily Blunt which shot earlier this year. If schedules and money don't align, "The Danish Girl" could wait even longer. Hallström has several projects in the works including directing the coming of age drama "Tom's Dad," with Patrick Dempsey and he's also attached to helm "My American Lover" with real life lovers Johnny Depp and Vanessa Paradis starring.