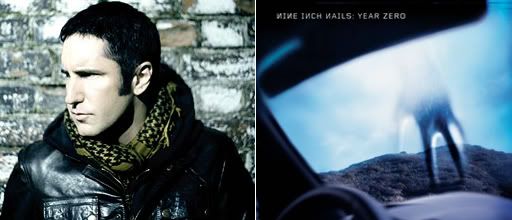 Nine Inch Nails front-man and all round musical maverick Trent Reznor has confirmed that his band's 2007 dystopian concept album Year Zero is currently being developed as a miniseries with production giants from either side of the Atlantic, HBO and BBC, already on board.

The album's television adaptation has been in the works for quite some time with Tarantino-regular Lawrence Bender, but now looks to be gaining momentum with "Carnivàle" writer Daniel Knauf already scribing and BBC becoming involved.

"We are in pre-production with HBO and BBC to do a miniseries," Reznor unveiled to Hero Complex. "It's exciting. I probably shouldn't say too much about it except that I understand that there's a thousand hurdles before anything shows up in your TV listing. It's been an interesting and very educational process and it cleared the HBO hurdle a few months ago and now we're writing drafts back and forth. So it's very much alive and incubating at the moment."

"BBC was the first to show interest and came on as the studio," Reznor elaborated. "Our writer is Daniel Knauf from 'Carnivàle' and he's busy with pages right now and revising the overall world Bible. It's been an interesting collaborative effort but I've learned that [television development] moves at a glacial pace."


It's not yet known what part of the album the adaptation will explore but, as a concept album built on on the criticism of the contemporary U.S. government's policies and the exploration of ideas of their implications in the year 2022, it's presumed that futuristic, sci-fi vision is what is being tapped into.

HBO and cable television in general has been on an astounding run of late and looks to be expanding with the recruitment of stellar cinematic talent including Martin Scorsese, Michael Mann, David Fincher, Kathryn Bigelow and Jonathan Demme, just to name a few. After only two episodes, Scorsese's "Boardwalk Empire" has already been touted as the next "Deadwood" and been renewed for second season with such success likely to continue the company's expansion and development; Reznor's adaptation hopefully included.

It'll be interesting to where the project eventually goes though, as forewarned by Reznor's comments, we probably shouldn't expect to see anything come together a little while yet. If and when it does but, we'll be expecting Reznor to launch another mass-media marketing assault -- Year Zero was renowned for the groundbreaking marketing campaign that preceded its release which included the likes of an alternative-reality game, various online campaigns and, on a much simpler note, the release of music through hidden USB drives at concerts. There is a pretty fascinating and exhaustive breakdown of that campaign here.