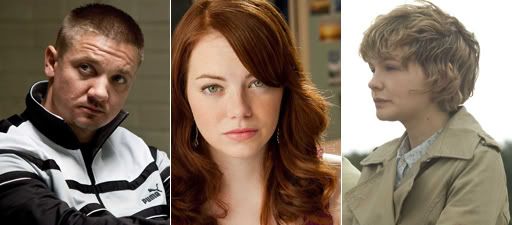 Even though it's still officially summer, this week's lineup has an autumnal feel, with solid dramas, awards bait, and even a well-crafted comedy to attract moviegoers. Four films are opening wide this week and the number one slot is wide open. The strongest contender is most likely the cops and robbers heist picture "The Town," from director Ben Affleck. The film has very strong critical notices as does the charming teen comedy "Easy A," which should have a shelf life for years as good films for teenagers are few and far between. The horror flick "Devil" should see decent numbers despite having M. Night Shyamalan's in the credits; while the animated "Alpha and Omega" has been drumming up zero buzz. At the art-house, the highly anticipated romantic sci-fi film "Never Let Me Go" begins its limited rollout, the Sundance fave "Catfish" will try to build its good buzz into sleeper hit status, Philip Seymour Hoffman directs the drama "Jack Goes Boating" and Edward Norton lights up "Leaves of Grass."
In Wide Release: Ben Affleck returns to familiar Boston soil with his sophomore directorial effort "The Town." The town in question is Boston neighborhood, Charlestown, which at one point was the bank robbery capital of the United States. Following up his solid feature debut "Gone Baby Gone," Affleck steps in front of the camera as well in the story of a ragtag crew of bank robbers facing off with the cops. It's basically a crime genre flick, but a strong and thrilling one (check our review here) with a fantastic cast including Jeremy Renner, Jon Hamm, Rebecca Hall and Chris Cooper. RT: 90% Metacritic: 76.
Emma Stone stars in "Easy A," a modern day re-telling of "The Scarlet Letter" in the guise of a quirky teen comedy. The "Zombieland" actress plays Olive, an anonymous high school girl who gains attention when she lies about her sexual adventures. Exploiting her newfound notoriety, Olive finds her social and financial life upgraded. We were impressed when we saw the movie at Toronto and really think it's one of the best teen comedies of the past decade. RT: 83% Metacritic: 71.
Also out in in wide release this week is the first film from M. Night Shyamalan's new Night Chronicles production house, "Devil." The horror picture follows eight people stuck in an elevator, one of whom, of course, is the devil himself. The film was not screened for critics, but you can check out the trailer here.

"Alpha and Omega" is an animated family comedy about two mismatched wolves trying to return home after being shipped across the country. It features the voice talents of Justin Long, Hayden Panettiere, Christina Ricci, Danny Glover and the late Dennis Hopper. And yeah, critical response seems to confirm it's as terrible as it looks. RT: 13% Metacritic: 39.
In Limited Release: An adaptation of Kazuo Ishiguro's beautiful novel, "Never Let Me Go" stars Carey Mulligan, Kiera Knightly, and Andrew Garfield as boarding school friends holding dark secrets. Director Mark Romanek has a particularly difficult job, melding a classic romance with oddly austere dystopian elements. We reviewed the film recently and find that he succeeds in making a beautifully constructed work that's easy on the eyes, but lacking any emotional punch. RT: 58% Metacritic: 67.
A big hit at this year's Sundance, the "reality thriller" "Catfish" opens in limited release this weekend. The documentary follows young NYC photographer Nev Schulman, who starts an online relationship with a family in Michigan. His filmmaker brother Ariel Schulman and his roommate Henry Joost become fascinated with the story and begin to feel that something is not-quite-right as the trio sets off for Michigan to meet them. We posted our review earlier in the week, finding the film to be intriguing and unsettling in part because we have no idea how much of what's onscreen is actually real. RT: 75% Metacritic: 63.
Making his directorial debut is acclaimed actor Philip Seymour Hoffman with "Jack Goes Boating." Adapted from an off-Broadway play, Hoffman also stars in the film alongside Amy Ryan, John Ortiz and Daphne Rubin-Vega as two NYC couples coming to grips with the light and dark sides of love and commitment. RT: 60% Metacritic: 67.

Tim Blake Nelson's excellent "Leaves of Grass" also gets a limited run starting today. We thought the Edward Norton starrer was headed straight to DVD, so we're thankful to see it play at least a few theaters. You can read our review here, definitely check it out if it's playing near you. RT: 50% Metacritic: 58.