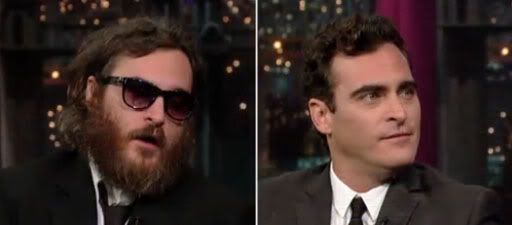 While some may have questioned how wise it has been for Casey Affleck to reveal, just as "I'm Still Here" is rolling out across the country, that it was all an elaborate Andy Kaufman-esque stunt, it may be turn out to be the best publicity the film has received yet. And with Joaquin Phoenix returning to the "Late Show With David Letterman" last night following his carefully orchestrated meltdown 18 months ago, suddenly the actor's transformation looks less like a prank and more like the stuff of Best Actor performances.

Chatting with David Letterman last night, Phoenix expressed surprise that his caricature of an actor on the skids gained as much attraction and moreover, believability, as it did. But despite reports that David Letterman himself was in on the stunt, Phoenix put that notion to rest saying that there was nothing discussed beforehand but that he and Casey Affleck trusted that the host would know the difference between an actor and a character. And he did. Letterman describes that interview saying, "It was so much fun. It was batting practice. Every one of them [one liners] was a dinger." Letterman also jokes that's he owed $1 million as his talent fee since the movie turns out not to be, really, a documentary. When Phoenix asks if they can talk in private about it, Letterman quips, "We'll go to one of your screenings." Zing.

Meanwhile, Roger Ebert and Casey Affleck have exchanged a fascinating series of emails about "I'm Still Here" where the director opens up completely about its making, why they did it, who really was in on it and just how much of the film was staged.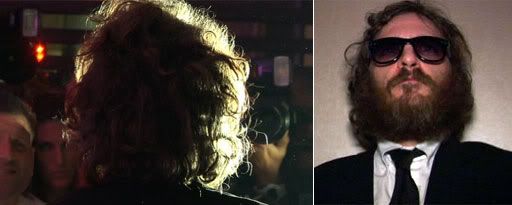 Among those brought into the circle of trust about their Phoenix and Affleck's exploration of media and celebrity were Ben Stiller, Natalie Portman and James Gray. As you might recall, at the 81st Oscar Ceremony, Stiller riffed on Phoenix's first Letterman appearance while presenting an award with Portman for Best Cinematography (video below). But Affleck not only confirms Stiller knew what was going on, he has high praise for the actor fully embracing what they were trying to do with "I'm Still Here" saying, " Ben was incredibly supportive. For the guy with the all time highest box office average, for someone sitting squarely and securely at the top of the heap, he was really gallant in the way he swooped into our little movie and treated us with respect and patience and complete faith. I don't know why. I think he is the real thing, and I mean by that that he does this because he likes it and likes experimenting and challenging himself and growing. And maybe he thought working with a couple knuckleheads was a way of helping himself grow as a philanthropist of the arts. Ben is a very nice guy."

But if he has kind words Stiller, his comments about James Gray, who unfortunately had his excellent "Two Lovers" opening just as Phoenix began to go off the rails, are a bit more....reserved. Responding to Ebert's question about Gray's frustration at the time that Phoenix's behavior was a distraction from the film Affleck coolly responds, "James just wanted people to see his movie. Magnolia released that as well as my movie and I don't think a whole lot of people would have seen it if Joaquin didn't have a beard and hadn't told people he was retiring. But maybe I'm wrong. James also was told what was going on." Though to be fair, Gray did eventually simmer down and admit it bothered him "from a very selfish perspective" and said that he envisions working with the actor again.

Affleck went on to reveal that when Phoenix was behind closed doors, he was his regular self, "When we were not rolling he was out of character. If he was in public he had to behave in a way that didn't contradict the character's personality." Also, all the hookers and blow? Staged. The vomiting? Real.

It's been a wild ride and certainly one of the more interesting stories of the past eighteen months whether real or fake. At the very least it gives us pause to think about how much of celebrity is constructed (most of it) and how much is real (very little). At any rate, you can watch Phoenix's return to the "Late Show" below. "I'm Still Here" is in theaters now.