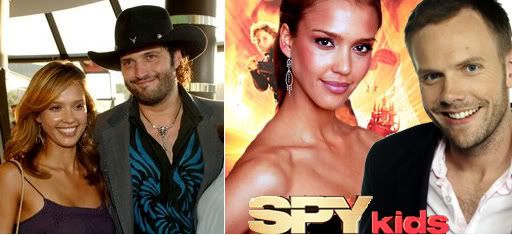 While this writer can't speak for his role on "Community," (don't watch, sorry) former "Talk Soup" host Joel McHale was excellent in Steven Soderbergh's underrated, "The Informant!," so that's good enough for us.

The television actor is moving deeper into movies once again as he has just been cast opposite Jessica Alba in Robert Rodriguez's " "Spy Kids 4: All the Time in the World."

According to Variety, McHale will play Alba's "spy-hunting reporter" husband in a story that essentially reboots the "Spy Kids," but will still see appearances by former franchise actors Antonio Banderas, plus the now-grown up child actors of those films, Daryl Sabara and Alexa Vega.

McHale will next been seen in "What's Your Number" alongside Anna Faris and "The Big Year" that stars Steve Martin.

As for Rodriguez's potential directing gig on "Deadpool" starring Ryan Reynolds, it may not happen. The Austin-based filmmaker recently said, "I'm not sure, they gave me an early draft of the script to read and I liked it a lot but I'm kinda busy on 'Spy Kids' right now. I'm not able to commit to it right now." "Spy Kids 4" is already slated for an August 19, 2011 release date via The Weinstein Company, so it appears scheduling a "Deadpool" shoot for next year -- the plan was tentatively in the spring -- is not going to happen. At least not with Rodriguez at the helm unless he decides to burn candles at both ends and hand off the editing of the kids franchise to his extended Troublemaker Studios team, but that sounds unrealistic, even for an uber- multi-tasker like him.